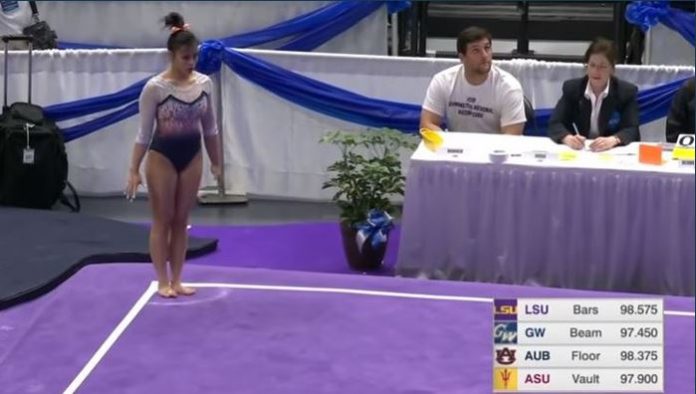 BATON ROUGE, Louisiana, April 8, 2019 (Gephardt Daily) — A disturbing video of Auburn University gymnast Samantha Cerio has gone viral after she suffered broken bones during the performance Friday, resulting in what she says is a career-ending injury.
Cerio, a 5-foot-tall senior competing in the NCAA Women's Gymnastics Athens Regional, flipped toward a floor mat, but hit the edge at an odd angle, and suffered an injury that many have described as gruesome to watch.
Cerio, who is studying to be an aerospace engineer, has since released the following statement:
"Friday night was my final night as a gymnast. After 18 years I am hanging up my grips and leaving the chalk behind. I couldn't be prouder of the person that gymnastics has made me to become. It's taught me hard work, humility, integrity, and dedication, just to name a few. It's given me challenges and road blocks that I would have never imagined that has tested who I am as a person. It may not have ended the way I had planned, but nothing ever goes as planned.
"Thank you Auburn family for giving me a home and a chance to continue doing the sport that will always be my first love. I am honored to have had the privilege to represent the navy and orange AU for the past 4 years with my team by my side. Thank you for letting me share my passion with you. Thank you for letting me be a part of something bigger than myself.
"War Eagle Always"
To see the upsetting video — and you have been warned — click the player below: