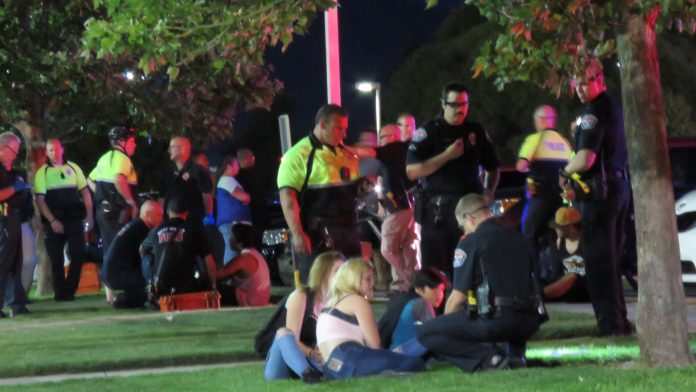 WEST VALLEY CITY, Utah, June 16, 2017 (Gephardt Daily) — Police were busy Friday night when violence broke out in separate incidents at WestFest in Centennial Park, 5415 West 3100 South.
Crowds of people were enjoying the many rides and activities at the annual celebration when a large group fight erupted in a section of the park.
West Valley City Police spokeswoman Roxanne Vainuku said police were called at about 9:30 p.m. and upon arrival found that three males in their late teens or early 20s had been stabbed.
Vainuku said one had been stabbed in the chest and was transported to the hospital in critical condition. He underwent surgery later Friday night. A second young man was stabbed in the back and was taken to the hospital in stable condition. The third man had cut wounds to his hands and forearms, and Vainuku said police are looking into whether he has any connection to the suspect.
She said police are looking into the possibility that the initial stabbing could be gang-related or may have stemmed from a family fight.
No suspect is in custody at this time.
The second incident — a fight among suspected gang members — occurred a short distance away while police were still on scene.
Vainuku said officers had to use pepper spray to get control of the group, and two juveniles were taken into custody. Vainuku said investigators are checking whether there is any connection between this fight and a stabbing that took place around 2:30 p.m. Friday outside of Valley Fair Mall.
In the Valley Fair Mall incident, three juveniles — the victim and two suspects — were taken to a local hospital for evaluation after an altercation turned into a knife attack.
In addition to the stabbings and suspected gang fight Friday night, Vainuku said a man is in custody for assault and a juvenile is in custody for assault after they were involved in unrelated fights at WestFest.