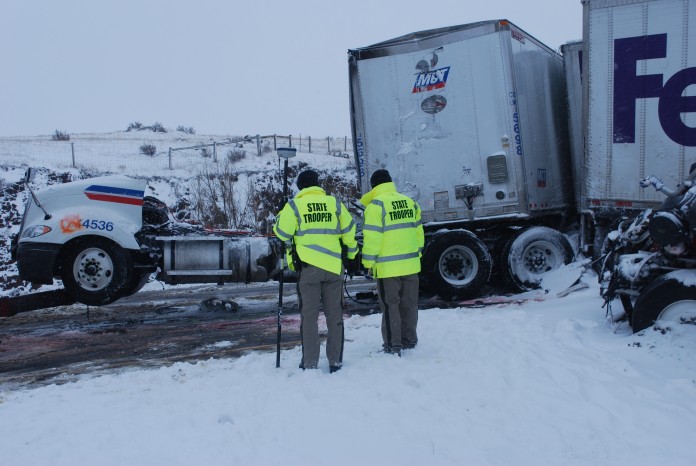 Fast Speeds and Blizzard Conditions Cause Huge Pile-Up Near Cheyenne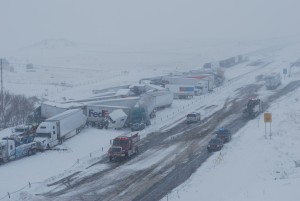 CHEYENNE, WYOMING – April 17, 2015 (Gephardt Daily) – Thirty three commercial vehicles and 12 passenger vehicles is the latest estimate that were involved in one of the three crash sequences along with multiple other vehicles that were not part of an actual crash, but became stranded in the event due to road blockage.
Sixteen motorists were transported by ambulance and a Laramie County School District bus transported 11 motorists to Cheyenne Regional Medical Center in Cheyenne.
Six of those injured were critical to serious leg or spine injuries. No fatalities were reported from this event.
Joint training between the Wyoming Highway Patrol, Sheriff's Office and local fire departments and their dispatchers is credited for the rapid response, extrication, treatment and transport of those injured in the event.
Speeds too fast for the blizzard conditions and loss of control are being investigated as contributing factors in the crashes that caused a "domino" style chain reaction after the first couple of vehicles lost control.
Interstate 80 between Cheyenne and Laramie is expected to remain closed into tonight and possibly through today as the investigation and cleanup continues through the evening.
Weather will hold a strong determining factor for the investigators and cleanup crews as to when I 80 will be ready to reopen.