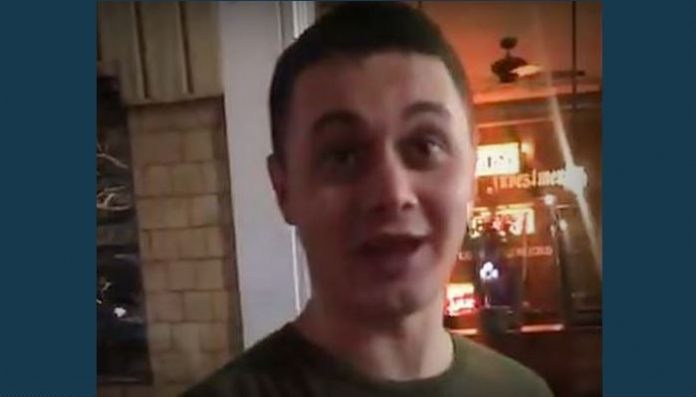 SALT LAKE CITY, Utah, Feb. 18, 2019 (Gephardt Daily) — Police investigators are asking for the public's help in finding the suspect who was recorded attacking a gay man on Main Street in Salt Lake City Saturday night.
The 8-second video was posted on social media Sunday afternoon by Sal Trejo. It was accompanied by Trejos' own description of events before and after the assault.
"It started with him approaching us out of the blue and making homophobic and misogynistic comments toward our group," Trejos wrote. "We started recording him and asked him to leave, he wouldn't, and then he went on to hit me and shove one of our girlfriends. At this point we became verbally aggressive to protect ourselves. We called the police immediately. He then pulled out a knife and pointed it toward us while continuing to call us faggots. He eventually ran off, got into his car (in his intoxicated state) and drove on the light-rail tracks until he spend off away from Main Street. This man is dangerous and heeds to be held accountable for his actions. He drives what looked like a 2007 BMW X5."
The video has sparked outrage on Twitter and been viewed more than 100,000 times within hours of its release.
Salt Lake City Mayor Jackie Biskupski and former state legislator Jim Dabakis both shared the video on their Twitter accounts.
Utah State Senator Derek Kitchen also posted the clip and called on fellow legislators to pass a hate crimes law. Just last week a gay pride flag hanging outside Kitchen's restaurant at 912 S. Jefferson Street was vandalized.
The Salt Lake City Police Department is asking anyone with information on Trejos' case to call 801-799-3000.