SALT LAKE CITY, Utah, March 21, 2016 (Gephardt Daily) — At the end of his 47-minute speech Monday, Democratic presidential candidate Bernie Sanders struggled to get through the crowd of more than 3,000 packed into a sweaty gym at West High School.
He and his handlers slowly worked their way through a churning sea of young admirers, most of them holding cell phones far over their heads, hoping for selfies with the man of the hour.
It was familiar territory for the 74-year-old candidate, whose high energy campaign has captured the imagination of millions across the United States.
"I hope the foundations of this building are strong, because they're shaking," Saunders said at the start of the rally. "This is one crowded gym, I'll tell you that."
Sanders got right down to business.
"I hope everyone in this room knows there's an important caucus tomorrow night here in Utah. I hope everyone comes out and brings their brothers and sisters, aunts and uncles, and everyone they know."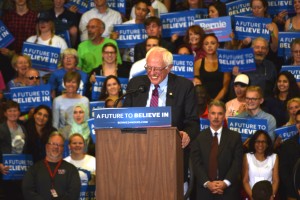 Sanders knew he was a Democrat in a Republican state.
"It is well known that Utah is a conservative states," he said. "You already know that. You live here, right? Utah is a conservative state.
"But it's a state of conservative, caring people. It is a state that does not like people who lie all of the time. It is a state that does not like candidates to insult other people or make fun of other people," Sanders said in apparent reference to Republican frontrunner Donald Trump.
"And while it is a state that I understand has not voted for a Democrat candidate in 50 years, the poll yesterday showed us leading Donald Trump by 11 points," Sanders said. "And as somebody, some observer noted, he said if somebody like a Sanders is ahead by 11 points in Utah, this is the canary in the coal mine."
Sanders credited his success with "… doing something that is very unusual in contemporary American politics: telling the truth."
His political revolution, Sanders said, would include doing all he could to increase the minimum wage so workers could earn a living wage.
Sanders talked about his plan of taxing Wall Street to help raise funds to pay down student loans and work toward the goal of tuition-free public colleges and universities.
Crowd cheers and the wild waving of signs that said "A Future To Believe In" seemed to interrupt Sanders' speech every 15 seconds or so.
Sanders talked about the trillions of dollars spent on what he called the ill-advised war in Iraq, and the need for compromise to solve problems between Israelis and Palestinians. He advocated equal pay for women, and his goal for the nation to respect and offer fair treatment to minority communities including Hispanics, African Americans and American Indians.
He talked about the need for a higher quality of affordable health care, the reality of climate change, and a revamping of drug laws.
And Sanders asked again for Utahns' support in Tuesday night's Democratic caucus.
"The people of Utah have the opportunity to help make American history," he said. "The people of Utah can send a profound message."
The message sent by voting Sanders would be that Utah is ready to fight for political revolution, Sanders said.
"The road to the White House runs through the West. Let's come out tomorrow."