MILLCREEK, Utah, April 28, 2016 (Gephardt Daily) — A Unified Police K-9 has been shot and killed in the line of duty.
Aldo, a veteran police dog which had been on the Unified Police force for five years, was being used to a clear a house at 4303 S. 730 East while officers tried to serve a warrant on a fugitive wanted for fleeing police.
Salt Lake County Sheriff Jim Winder told Gephardt Daily officers were preparing to enter the home shortly after 11 p.m. when the shooting took place.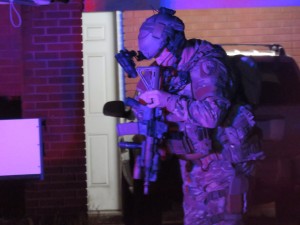 "They attempted to enter the residence searching for the individual and as they did they were met with gunfire," Winder said. "Several rounds were fired during the course of that exchange, and Unified Police Department K-9 Aldo has been killed."
Winder said three officers returned fire and were unsure if they hit the suspect as they retreated from the home carrying the mortally wounded dog.
One of the officers used his own body to shield the wounded K-9 from any other gunfire.
At about 4 a.m., members of the SWAT team entered the home a second time and found the suspected shooter inside a closet. Winder said the assailant had been gravely wounded although it was unclear if his injuries were self-inflicted.
Investigators say they don't know whether the fugitive they were searching for ─ identified as David Shane Anderson ─ was the person who exchanged gunfire with police. He was wanted on a felony warrant for fleeing from police in Taylorsville last week.
At least four people were taken safely from the home and are said to be cooperating with the investigation.
The three officers who took part in the shooting were to be placed on administrative leave.
(DEVELOPING)