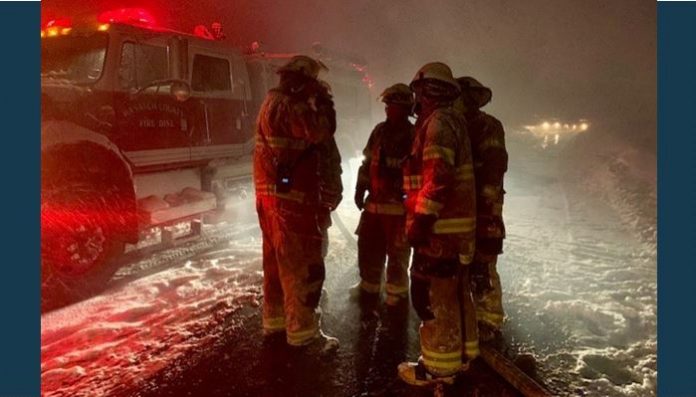 WASATCH COUNTY, Utah, Feb. 16, 2019 (Gephardt Daily) — New details have been released after a home explosion Friday evening in Wasatch County.
The incident started just before 7 p.m. in the rural Timber Lakes subdivision, about eight miles east of Heber City.
"The female with her four children had arrived at the cabin to spend the weekend, and as she entered through the garage she noted a gas smell and entered the home to check it out," a statement from the Wasatch County Fire Department says.
"The children remained in the car. After several minutes, there was an explosion. The neighbors heard the explosion and noted flames coming from one side of the home.
"Two male neighbors arrived and heard the woman calling for help and found her trapped under a beam. They were able to lift the beam off of her and pull her out to safety."
Fire crews arriving on the scene found the home fully engulfed in flames.
"They began fighting the fire in defense mode from above the home with the aerial apparatus, as well as with hoselines from several points surrounding the structure," the fire department statement says.
"The severe storm that had been forecast hit as crews were working the fire with heavy snow and wind causing low visibility and extreme road conditions. Wasatch County Fire has several 4×4 apparatus that remained on the scene and other units were released."
A crew remained on scene during the night.
"The woman was treated at the scene and EMS was informed that air transport had been grounded due to the storm," the statement says.
"The patient was transported to Heber Valley Hospital suffering from burns and trauma from the collapse of the structure, and later by Life Flight ground transport to Salt Lake City."
The Wasatch County Fire Department statement thanked those who assisted:
"Thanks to the heroic neighbors, the Timber Lakes maintenance crews, and the snow plows who all worked so hard to keep the roads open and accessible for us."