Living Traditions Festival Kicks Off Today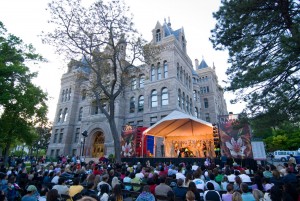 SALT LAKE CITY, UTAH – May 15, 2015 (Gephardt Daily) School children will have the chance to experience the 30th Annual Living Traditions Festival today, Friday, May 15 before it gets underway officially tonight.
The annual School Day Program gives 2,500 local elementary students the opportunity to enjoy the festival at the Salt Lake City and County building before gates open to the public.
"The Living Traditions Festival is one of our most beloved events, celebrating our community's cultural diversity and traditions," said Mayor Ralph Becker. "This marks the 30th year of this free event, which attracts thousands of people and continues to grow its offerings of food, music, dance and crafts. I hope everyone will have a chance to make a visit and celebrate our community's growing diversity and vibrancy."
Produced by the Salt Lake City Arts Council, the Living Traditions Festival is a three-day multicultural festival celebrating the traditional music, dance, crafts and foods of Salt Lake City's contemporary ethnic communities. Admission is free for all festival attendees, which brings together over 50 cultures—both native & foreign—that have made Salt Lake City their home.
Living Traditions honors the cultural activities of these groups, which are maintained and handed down from generation to generation, and are based on traditional practices, techniques and materials. Some are thousands of years old, some are only performed at community celebrations, and others are practiced within families on a daily basis.
This year, the festival is dedicated to reflecting on the memories, experiences and amazing stories that we have all shared throughout the 30 years. The 12 groups and organizations that have been a part of the festival for the entire 30 year duration will be highlighted.
The festival began in May 1986 at the This is The Place State Monument as a part of national touring art installation called the "Prairie Ship Liberty". At each stop of the "ship," the artists asked the local community to put together an ethnic festival to celebrate America's diversity. Salt Lake City was chosen as one of the locations for the exhibit to make a stop at, and there was the beginnings of the inaugural Living Traditions Festival.
The festival is open Friday 5 p.m. to 10 p.m., Saturday noon to 10 p.m. and Sunday noon to 7 p.m. For details on all the activities and offerings at Living Traditions, visit http://livingtraditionsfestival.com/