Miss Oklahoma Olivia Jordan is Crowned Miss USA 2015
BATON ROUGE, La., July 12, 2015 — (UPI) — Miss Oklahoma Olivia Jordan was crowned Miss USA 2015 in Baton Rouge Sunday night.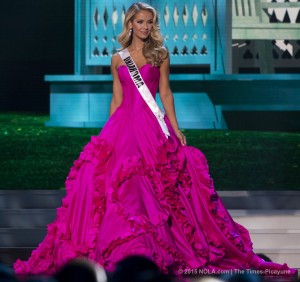 Jordan, 26, is a personal trainer and model with a Bachelor's degree in Health Science from Boston University.
First runner-up in the pageant is Miss Texas Ylianna Guerra, while Miss
Rhode Island
 Anea Garcia took third place.
The contest aired on the cable TV network Reelz, with game-show host Todd Newton, actress Alex Wehrley and TV personality Julie Alexandria stepping in as co-hosts after Jeannie Mai, Thomas Roberts and Cheryl Burke dropped out of their presenter positions due to their objection to controversial remarks that pageant owner Donald Trump recently made about illegal immigrants from Mexico.
Trump, who is campaigning to be the Republican presidential candidate, has lost endorsement deals and ruined his partnership with NBC because of his political views.
Reelz agreed to air the beauty contest after NBC canceled its scheduled broadcast.