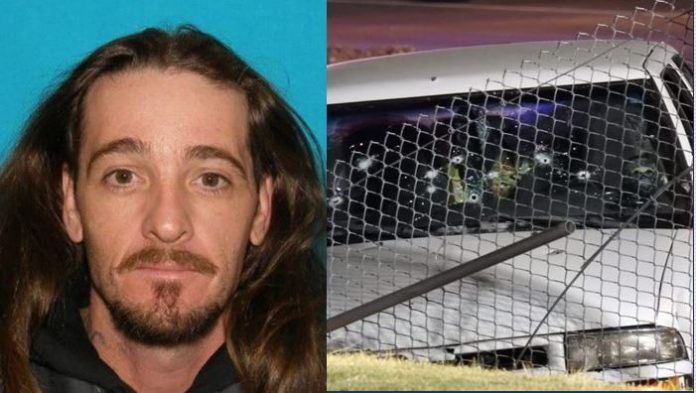 UTAH COUNTY, Utah, Jan. 10, 2018 (Gephardt Daily) — A Utah County Sheriff's Office official said Wednesday that officers' bullets probably struck a bystander and a truck during the apprehension of a suspect who led law enforcement on a chase on Dec. 20.
The incident arose from a multi-agency effort to stop an armed man leading officers on the high-speed chase through two counties. Shots fired in Spanish Fork hit a passing pickup truck and a man pulled over at the side of the road.
"Investigators have determined that the bystander and passing pickup struck by gunfire in a December OIS (officer-involved shooting) were likely struck by law enforcement gunfire," said a statement released Wednesday by Sgt. Spencer Cannon, Utah County Sheriff's Office.
The incident began at a gas station in Juab County, near Nephi, when the suspect fired a shot in or at a gas station parking lot, the UCSO statement says.
After being alerted by the Nephi Police Department that the suspect had headed north on Interstate 15, a Utah County deputy located the suspect pickup a short distance south of the off ramp for Spanish Fork's Main Street.
"After other Deputies and a Spanish Fork Officer got into position, the deputy initiated a traffic stop on I-15 at mile 260, a short distance north of the SR-77 overpass," the statement says. "The suspect, Arturo Ray Gallemore-Jimenez, age 37, initially complied with commands of deputies to put his hands out the window. Gallemore-Jimenez then put his hands back inside his pickup. Moments later he reached out and fired multiple shots toward deputies and officers with a handgun."
The four deputies and a Spanish Fork Police officer returned fire for less than 6 seconds, the statement says. Gallemore-Jimenez drove away at about 30 mph, and officers positioned themselves to block the suspect from getting back on I-15.
"As Gallemore-Jimenez approached University Parkway he turned abruptly toward the off ramp," the statement says. "The deputy positioned there then fired multiple rounds at Gallemore-Jimenez for less than 4 seconds.
"Further up the off ramp, Gallemore-Jimenez veered off the pavement and crashed into a fence. A few minutes later he crawled out of his pickup. At that point Deputies and Officers approached the pickup and took Gallemore-Jimenez into custody."
Investigators on the scene learned that a 21-year-old Provo man stopped at the side of the road while he put gas in his truck had been struck by a stray bullet. A passing pickup truck also was hit in the back window, but no one inside was hit.
"The 21-year-old victim sustained a gunshot wound to his right shoulder," the statement says. "The round from that wound lodged in his upper back and doctor's elected, initially, to not remove that round. That round appeared to have broken into several pieces. This victim underwent surgery on Jan. 4, 2018, and the bullet fragments were removed."
The locations of the suspect and of law enforcement agents lead investigators to believe that the round that struck the Provo man and the truck " … most likely came from a weapon fired by law enforcement in response to shots fired at them by Gallemore-Jimenez," the statement says. "This incident remains under investigation."