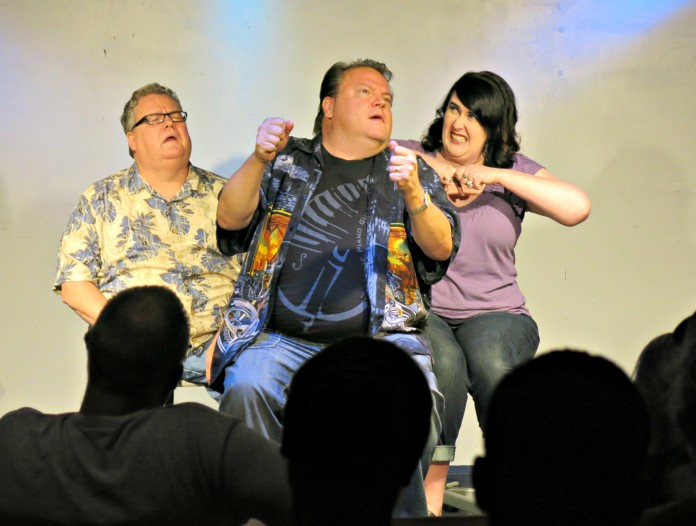 By Nancy Van Valkenburg
SOUTH OGDEN, Utah – ­August 23, 2015 (Gephardt Daily) — The improv challenge: to think of a funny pick-up line for scenarios offered by the audience.
Like a line a flirtatious dentist might try:
"Want to go out every six months? After our date, you can choose a prize from this little treasure chest."
Or a line that might work on "Sesame Street":
"Hey, girl, hey, can you tell me how to get to YOUR house?"
Or a come on you might hear in "Star Wars":
"Hey, girl, it's still the first movie and I don't know you're my sister yet."
The comedy flies fast and free on weekends at the Ziegfeld Theater, in South Ogden. The
multi-troupe venue, a long vacant single-screen theater just four years ago, now boasts a renovated, traditional stage downstairs and a small loft stage upstairs.
The Zig's main stage hosts musicals that are classical, like this season's "Les Miserables," "Fiddler on the Roof" and "West Side Story," or cheeky, like the current production of "Hairspray" or the upcoming shows, "Young Frankenstein" or "Fairly Potter Christmas," an original.
But late Fridays and Saturdays belong to improv comedy, upstairs or down. At 10:30 p.m. Friday, house troupe Off The Wall does a show most weeks. At 9:30 Saturday, Ogden troupe Sasquatch Cowboy owns the stage. Appearing now and then are visiting troupes including the recently formed Mid-Life Crisis. Admission is $5.
"Improv is exhilarating, a real adrenaline rush," said Caleb J. Parry, 29 who owns the Ziegfeld Theater with wife Morgan Parry. "It's completely different from being onstage with a play. There's no script, no director, no rehearsals. No two scenes are the same. It's always new and exciting."
Audience members agree.
"It's a great cheap date night," said Pat Brady, of Layton. "It's a whole different show every night, and we usually end up laughing until we cry. And when things go wrong on stage, it's even funnier."
One of the basics of improv comedy is the concept of "Yes, and …," Parry said.
"In improv, if somebody says, 'Let's go to the store,' you might answer 'Yes, let's go to the store, I need more pots,'" he said.  "That keeps the scene moving forward. If you say, 'No, I don't want to go,' the scene can't go anywhere. To accept and move forward is a fundamental building block of improv, and it's also part of the Ziegfeld's mission statement."
Parry, an actor since childhood, discovered improv at age 12. At 15 or 16, the Kaysville native took classes from Quick Wits, a Clearfield troupe. When some group members started talking about a new group, Parry suggested forming a troupe at his favorite acting venue, Terrace Plaza Playhouse, in Washington Terrace.
"I was this 16-year-old kid with 20 year olds, but we played at the Playhouse for nine years."
Next came college, marriage, and a technical job that paid fairly well. The Parrys used their savings to purchase Hunt Mysteries, an interactive murder mystery show company. Profits, along with lots of loans, allowed the couple to buy the former Country Club Theatre in 2011 and to start hands-on renovations, helped by friends and volunteers. Morgan Parry, by herself, reupholstered the main theater's 256 seats.
"I will tell you right now we should have gone bankrupt in the first month," Caleb Parry said, laughing. "I had never run a theater company like that and never owned a building. In hindsight, if I could go back in time knowing what I know now, I would have to think twice about it. But we've had a lot of unbelievable people step forward and offer to help in lots of different ways."
Saying "yes" worked out, and the theater now known as the Ziegfeld is growing fast and turning a modest profit in a difficult arts economy. The Zig will celebrate with an audience appreciation month in September. Admission to all Friday night improv shows will be free.
Sasquatch Cowboy, originally named Mission Improvable, moved its shows to the Zig more than a year ago, hoping to coordinate efforts with Off the Wall, which performed in the same timeslot, splitting each company's potential audience.
It's been a happy collaboration, and has added to the comic riches. Sasquatch Cowboy offers an improv class at 8 p.m. many Saturdays.
'What I love about improv is the chance to collaborate and create something as a team," said Chris Bodily, 35 and one of seven regular members of Sasquatch Cowboy. Bodily, of Ogden, works as a visual artist.
"With improv, I get to work with my friends, and I met my wife through improv. With every show interactive and fresh, each show becomes like an inside joke between the players and the audience, and the audience gets to feel like they are part of it.
"There's no other nightlife like it. People may go to movies or stay home and watch NetFlix, but with improv, the audience gets to see new stories unfolding for the first and only time."
Improv games come with names like World's Worst (do something the world's worst lunch lady, doctor, cab driver would do); Hecklers (players at back of theater comically abuse players on stage); Deleted Scenes (scene that didn't make the final versions of "Goodfellas," "Lord of the Rings," etc.; and Taxicab Driver (with identities and personality dysfunctions assigned, as always, from audience suggestions).
Once a month, the theater also hosts an improv comedy show, Improv Against Humanity, for age 18 and older. The Zig bills is as appropriate "For horrible people."
Tim White, a familiar face on the Ziegfeld's acting stage, recently joined new five-member troupe Mid-Life Crisis, and has enjoyed his venture into improv.
"I did my first show with Off The Wall in February, the night before my 49th birthday," the Ogden resident said. "With Mid-Life, we are all in or close to our 40s, and we thought we might have a different take than some of the young kids in our 20s and 30s. I was excited when they asked me to join."
White has loved humor since childhood, he said.
"I like the idea you can entertain people and made them happy for a minute, whatever their day has been like or there life is, they forget about that," he said. "I really like to surprise people and make them laugh."
White said he had not realized that improv comedy had rules. He has become a fan of the primary rule, "Yes, and…'" that of acceptance what exists and doing your best to move the story forward in a positive way.
"It's a really good life philosophy, too."
The Ziegfeld Theater is at 3934 Washington Blvd. For more information, visit www.zigarts.com.