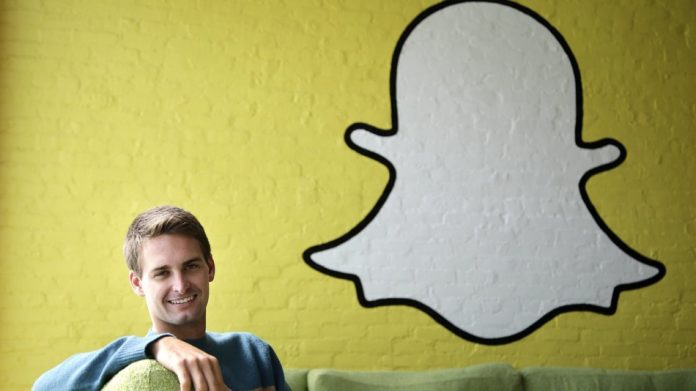 Snapchat CEO Evan Spiegel in Los Angeles on Oct. 24, 2013.

Image: Jae C. Hong/Associated Press
The camera follows the first batch of wheelchair racers as they speed through the streets of Manhattan, a few miles from the finish line of the New York Marathon. At the bottom of the screen, a caption sums up the sentiment of many viewers: "Damn they fast, 22 mi in less than 1 hr." Then the camera shifts to the thousands of runners making their way through Brooklyn, beneath a flashy logo on screen that says, simply, "Brooklyn."This isn't your typical coverage of a sporting event from ESPN or NBC. Instead, it's a new kind of live broadcast — to use both of those words loosely — from Snapchat

In June, Snapchat launched a feature called Our Story, which lets users attending specific live events submit pictures and videos through the app to a curated collection or Story. Those collections are made available to all Snapchat users, regardless of their location at a given moment or who they follow, in near real-time.

Snapchat initially made the feature available to users attending a series of music events, including Electric Daisy Carnival, Outside Lands and Lollapalooza — events fitting its younger user demographic. Two months later, Snapchat announced that it was rolling out Our Story, which it described in a blog post as "our favorite new feature," to all users as part of a new section in the app with a one-word title that hints at the startup's larger ambitions: "Live."

In the months since then, Snapchat has built up its platform to showcase curated footage of events like the New York Marathon, the Melbourne Cup in Australia, a hot air balloon festival in Albuquerque, New Mexico, and a number of college football games throughout the United States. These videos are short — usually two to three minutes each — and according to Snapchat, some are attracting an audience that rivals viewership for comparable television broadcasts.

"More people are watching college football on Snapchat than they are on television," Evan Spiegel, CEO and cofounder of Snapchat, said during an interview at a Vanity Fair summit in San Francisco last month. Perhaps that shouldn't come as a shock: Regular season NCAA football games averaged 2.6 million viewers last year, according to data from Nielsen. Snapchat, by comparison, reportedly has more than 100 million monthly active users.

Yet this is arguably the clearest indication that a service many associate with disappearing messages and sexts has potential as a platform for consuming live events and entertainment more broadly. Spiegel's comment was generally overshadowed by his announcement at the same event that Snapchat was about to introduce ads, but it could prove to be just as important for the startup.

As one VC who has looked over Snapchat in the past told Mashable, "This might actually be the first true user generated mass media that we've seen anywhere."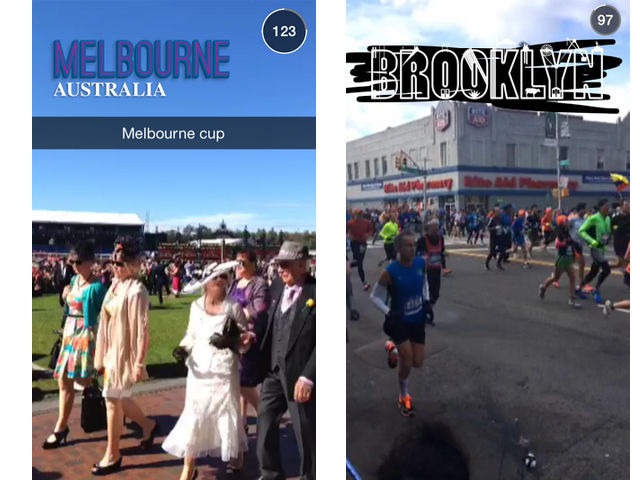 A Snapchat Our Story for the Melbourne Cup (left) and New York Marathon.
Image: Screengrab, Mashable
Snapchat users submit many hours of content during these live events, which is then narrowed down and examined for inappropriate images by a small team at Snapchat, according to a source close to the startup. The curated stories are kept short to provide a "quick glimpse" of events, the source says, but it's possible Snapchat will increase the length of the videos in the future.
By offering this user-generated content, Snapchat has the potential to boost engagement for existing users and attract new users who may not fully understand allure of disappearing messages, but do get the appeal of raw footage from big events around the world. More than that, it helps Snapchat in its pitch to advertisers.
Ad Age reported this week that Snapchat is in talks with marketers to bring ads to the Our Story feature. One "hypothetical example" put forward by the publication suggested that The Home Depot might choose to sponsor one of the college football broadcasts and add its logo or some images to the beginning of the video.
Snapchat declined our request for comment on the Ad Age report, but analysts say this would likely be more intuitive to advertisers than disappearing messages.
"Anything that mimics the TV experience in a social app is going to be interesting to [marketers]," says Debra Aho Williamson, an analyst covering social media marketing at eMarketer. "But it's going to be about how many people are using it and how engaged they are."
Analysts stress that Snapchat is still very much in the early days of figuring out advertising and those inside Snapchat stress that it's also still early days for Our Story. That said, the feature is one more clue to how Snapchat will solve the $10 billion question: How does a startup with no meaningful revenue to date justify a $10 billion valuation?
Snapchat's initial popularity among users was based on private messages that disappear after a few seconds, but its success as a business may increasingly depend on finding ways to serve relevant public content with a longer shelf life.
In addition to the Our Story videos, Snapchat is also said to be in talks with media companies like ESPN and Vevo to promote content in a new section of the app. If true, Snapchat would be following the example of other messaging services like Tango, which introduced a Channels feature this summer for users to discover more entertainment content.
"The messenger is the new portal and the hub," the investor we spoke with said of Snapchat's efforts to expand beyond disappearing messages. "That's the reality of the world we are in right now."
Have something to add to this story? Share it in the comments.