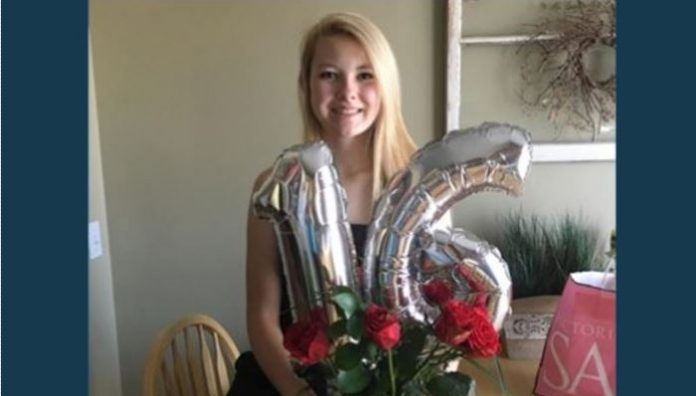 PERRY, Utah, Oct. 16, 2017 (Gephardt Daily) — The 16-year-old girl who died Monday, after being critically injured in an auto-pedestrian accident on Sunday, has been identified as Alexis Nelson.
Sarah Hardy, 14, also was critically injured when she and Alexis were hit by a pickup truck as they crossed U.S. 89 near 3500 South in Perry.
The family of Alexis Nelson released a statement late Monday, expressing thanks to the many people who have sent their love and support, and requesting privacy during this time.
In talking about Alexis, the statement reads in part:
"She will be deeply missed by her family and friends and has left a mark on her neighborhood and community in her short 16 year life. She was a Junior at Box Elder High School and was a friend to everyone especially those who didn't have a friend."
According to the family's statement, Alexis volunteered with the special needs students at Box Elder High, and spent time volunteering at the animal shelter in Brigham City.
"She also was so excited to have recently started at working at Arby's and loved working there with so many friends," her family said.
Many people in the Perry community have been tying pink ribbons to trees and mailboxes, as pink was Alexis' favorite color.
The Nelson family also asked that everyone keep Sarah Hardy's family in their thoughts and prayers.
"Positive signs today. Sarah has been coughing, moved her hands, the numbers are looking good. Long road ahead, but we are optimistic.Troy Hardy, Sarah's father, posted on Facebook late Monday night:
"At the same time our hearts are broken for the loss of one of our dearest family friends. Words cannot express how grateful we are that she was a part of our lives. Oh how we hurt for your family. I cannot imagine the difficulty of experiencing this loss."
A friend of Sarah Hardy's family, Victoria Cochrane, has set up a GoFundMeaccount to help the family with the accumulating medical bills.
The tragic accident happened at about 4 p.m. Sunday, when the two girls were trying to cross U.S. 89 near 3480 South and were struck by a northbound pickup truck, according to information provided by Perry Police Department.
The driver of the truck, who was not injured, remained at the scene and was cooperative, police said.