SURF CITY, N.C., Oct. 26 (UPI) — People used to think fossilized megalodon teeth were moon rocks or dragon's teeth. People are better informed these days.
The beach goers in North Carolina who found several giant fossilized teeth over the weekend knew right away they had found shark teeth. But they may not have known they were holding the teeth of the largest shark ever to call the ocean home.
Scientists say the teeth, some of which are bigger than an adult hand, belonged to megalodon, a prehistoric shark species that grew to nearly 60 feet in length — three times the size of a great white.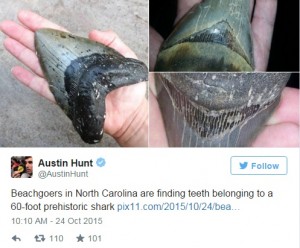 "Oh my God, like I said, I felt like I was a lottery winner or something," Denny Bland, one of the lucky tooth-finders, told local NBC affiliate WITN.
The teeth were discovered in North Topsail Beach and Surf City, North Carolina. Offshore storms churned coastal waters last week, and locals think the turbulence may have brought the teeth up from the ocean floor.
Wherever they came from, it's been quite a journey. The teeth are at least 2.6 million years old — that's how long ago megalodon went extinct.
For 14 million years, megalodon continued to grow in size, becoming the most fearsome predator in the sea. Researchers aren't sure what exactly caused megalodon's extinction. Many suggest a combination of cooling ocean temperatures, dwindling food supply and new predatory competition squeezed out the massive shark.