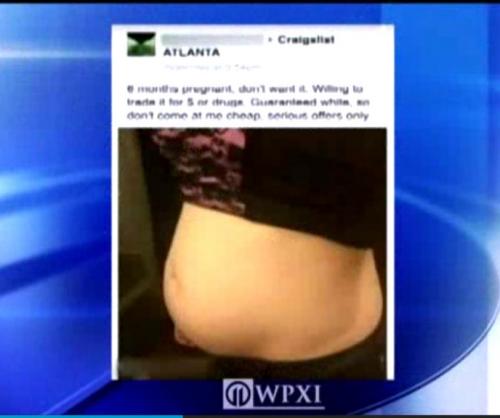 Georgia Authorities Probe Craigslist Post Offering Unborn Baby for Cash or Drugs
ATLANTA, June 5 (UPI) —
The
Georgia Bureau
of Investigation said it is probing a Craigslist post purporting to offer a "guaranteed white" unborn baby for sale in exchange for cash or drugs.
The GBI said the Craigslist post, which resulted in more than 100 calls to various agencies from concerned citizens, may have been a hoax, but investigators are looking into the matter to ensure there is not an unborn child in danger.
The post, which has since been taken down, read:
"6 months pregnant, don't want it. Willing to trade it for $ or drugs. Guaranteed white, so don't come at me cheap, serious offers only."
"We have gotten a lot of tips, we've gotten tips from various sources and the National Center for Missing and Exploited Children," GBI spokeswoman Sherry Lang told WSB-TV.
Lang said investigators are not sure whether the post's author would be prosecuted if the post is found to be a hoax.
"That would be something we would take to the district attorney's office and let the DA make a determination on that," Lang said. "We are not sure whether or not it's a hoax, but it's a definite possibility."