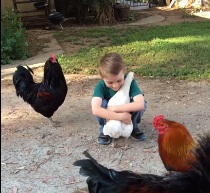 Hugging Chicken Skeptical of Boy's New Haircut
[hdplay id=257 width=710 height=490]
FRESNO, Calif., May 19 (UPI) — A California mother shared video of her son's famous hugging chicken being taken aback by the boy's new haircut while coming in for a squeeze.
[one_fourth]
[/one_fourth][three_fourth_last]
Gretchen Brumley shared the YouTube video of the chicken, nicknamed Love Bird for the way she seeks out hugs from 8-year-old Mason, coming in for a hug with her best human friend but backing off skeptically when she catches sight of the boy's fresh haircut.
The chicken circles Mason and pecks at his head before being convinced of the boy's identity and allowing him to embrace her.
Brumley said Love Bird, also known as Snowflake, was originally an aggressive and unfriendly bird, but she was won over by Mason and the pair became viral stars last yearwith a video showing how the chicken actively seeks out hugs from the boy.
"He is definitely her favorite person," Brumley told KSEE-TV.