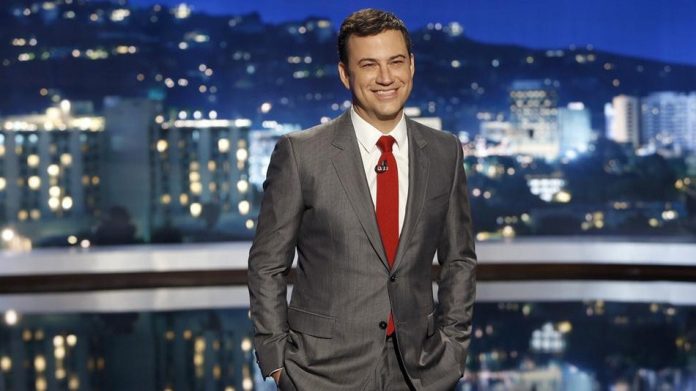 Jimmy Kimmel has big plans for his post-CMA show and he doesn't even plan to be there!
Ever wished you could be two places at once?  Jimmy Kimmel does, and his post-CMA show is about to prove he can.  Using cutting edge technology, he plans to give two audiences the full Jimmy Kimmel experience and here is how…
Jimmy Kimmel is ready for his hologram close-up.On Wednesday's Jimmy Kimmel Live, airing after the Country Music Association awards, the host and his team will attempt an impressive technological feat that will find the host presiding over two audiences in two different locations at one time.The goal is simple-sounding: Los Angeles-based Kimmel will have guests in both his native studio and some in Nashville, where the CMAs are taking place, and the action happening in one studio will be shared with the other audience using holograms.Or, as co-executive producer Doug Daluca puts it, they wanted to create the "Jimmy Kimmel experience" — from warm-up to final bow — remotely without having to actually put the show on the road.Over three months, producers, in partnership with Hologram USA, formed the plan for the first-of-its kind show, which will feature appearances from two Nashville-based guests — Florida Georgia Line and a to-be-determined CMA winner — and Modern Family actress Julie Bowen live in the L.A. studio alongside Kimmel.This dual telepresence, says David Nussbaum of Hologram USA, is going to be a "historic moment."

"Nothing like this has been done before in the United States."

Pulling it off will come with challenges. For one, Kimmel has planned some gags that require the host to interact with a person that he will not be able to see. Because of the way the technology works, the illusion is only visible from the audience's perspective, and Kimmel will have to rely on display monitors."We'll see how Mr. Kimmel and the Florida Georgia Line and the celebrity TBD's acting abilities are really like," Nussbaum jokes.

Moreover, the use of fiber optics over satellite was key in their approach, says Nussbaum, as it eliminates the half-second delay that accompanies transmission over satellite.

"We're going to do a lot of fun tricks and a lot of visual tricks and stunts," Daluca says. "We really want to use the technology in a fun and innovative way and get the most out of it."

The Kimmel show represents an important step in expanding the use of holograms across entertainment, Nussbaum said. Next up? The company is purchasing up the intellectual property of deceased iconic celebrities and working with their estates in hopes of putting together 90-minute concerts in key markets. Think Tupac at Coachella bit (which they assisted in) except bigger.

"[There are] full concerts that have never happened and could never happen, and we could do duets that have never happened," Nussbaum says. "We can bring back all of your favorite comedians and have a Field of Dreams of all the greatest comedy of all time on the same bill."

But that's then, this is now. And leading up to Wednesday night's big show, there is much work, blocking and rehearsals to do.

Daluca is unfazed by the task at hand, though. "Anything worthwhile usually is a lot of work."

Have something to add to this story? Share it in the comments.