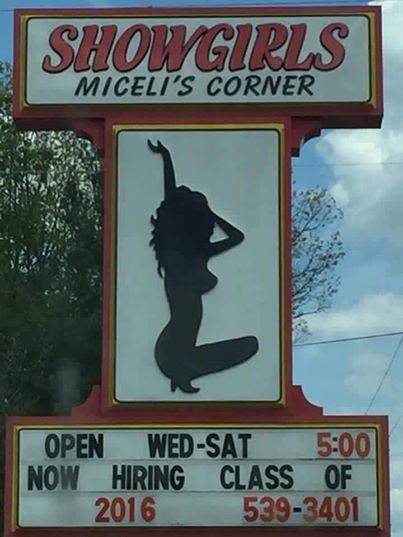 HARRISON, Mich., May 27 (UPI) — A Michigan strip club said a controversial sign offering jobs to the "class of 2016" was only meant to be a joke.
Miceli's Corner, a topless bar in Harrison, drew criticism from locals and online viewers of a viral Facebook post for a controversial message on its marquee: "Now Hiring Class of 2016."
Local woman Lisa Mulholland said the sign sends the wrong message to high school graduates.
"If you're a graduate you want to go to college," she told WNEM.
She said she doesn't have any problem with the strip club, but she finds the sign to be in poor taste.
"They're good people, but I still don't think it's right. I don't think it's right at all," Mulholland said.
Resident Lisa Dickerson agreed.
"Children fresh out of high school shouldn't be taking their clothes off for money. I think it's sickening," she said.
The club released a statement saying the sign was meant to be humorous.
"In no way were we trying to offend anybody. The sign was simply a joke," the statement said.