Texas Man Selling $400,000 House for $150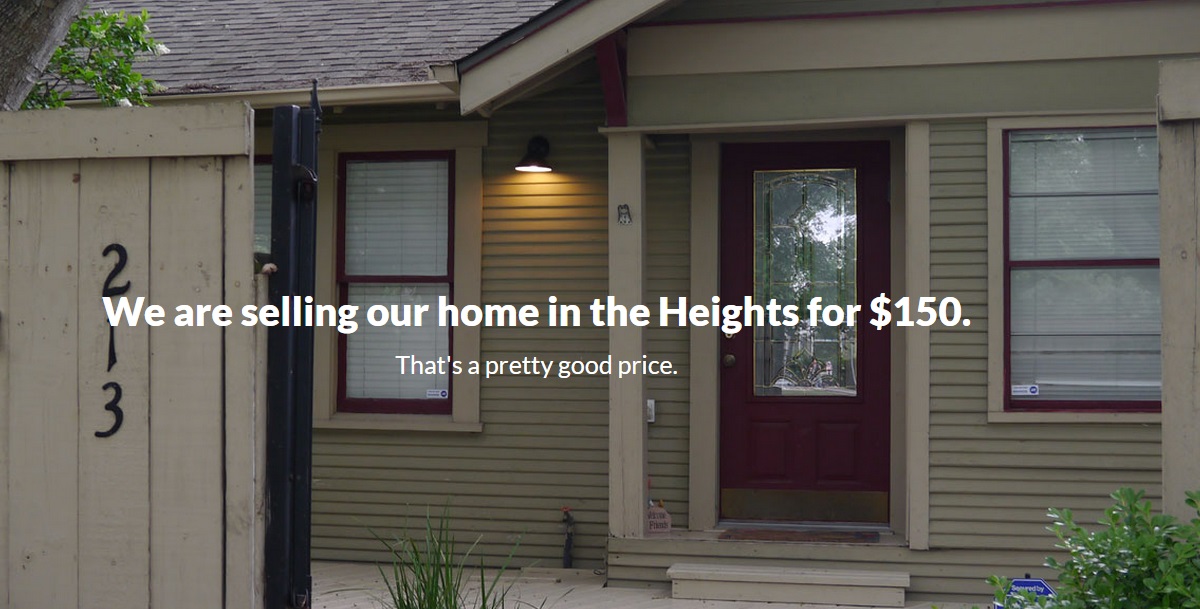 HOUSTON, TEXAS – May 15, 2015 (Gephardt Daily) – A Houston man is offering his house up for sale for $150. The catch? You need to have the best essay as to why you deserve the house for $150. If the owners like your essay the best, they will sell you the house. If they like someone else's essay and sell them the house, you lose your $150.
According to www.150house.com, the owners heard about a similar sale done before and decided it was worth a shot. "We recently saw a bed and breakfast in Maine being sold in similar fashion and thought it was a good idea: this would be a way for a person to update a house and not be saddled with a large mortgage. We thought it was interesting enough to try!" said homeowner Michael Wachs.
Many people seem to be really confused on the owner's intentions but according to the website, if they don't pick an essay and decide not to sell the house, the money will all be refunded.
The two bedroom, one bath home is 1,056 square feet with a two-car garage that was built in 1920 on a 5,300 square foot lot, and while the Harris County Appraisal District values the house around $394,000 it appears to need a lot of upgrades and repairs and many are skeptical if the home is even worth buying.
In a discussion board, those who have opted to talk about the fine print found that the home just maybe not worth all the effort. The site has attached a PDF that shows there is water damage, electrical issues and structure issues, The home is being sold as is. Some feel that it has too much that needs to be done, while others feel that if you're into flipping houses or up to the work, it would be worth the risk.
The site has a countdown to the deadline of June 13, 2015 and advertises the house, located at 213 E. 23rd Street, Houston, TX, to be in "beautiful Sunset Heights, where you can live directly across from the adorable Halbert Park, walk to 19th Street shops and restaurants, stroll down Heights Boulevard or be downtown in a few minutes." Further stating "Truly one of the best locations in all of Houston."