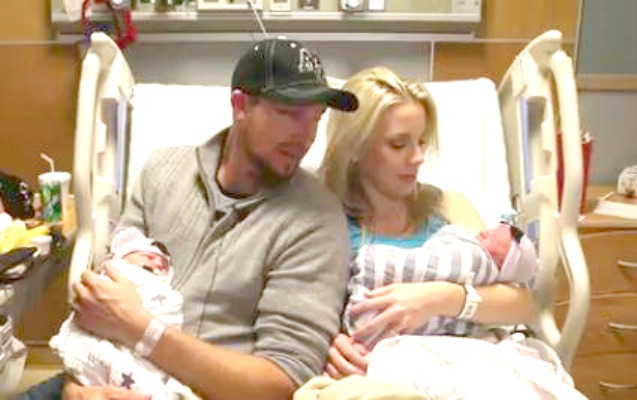 GLENDALE, Calif., Jan. 2 (UPI) — Three families became parents of twins this weekend — in different years.
After six hours of labor, Holly Shay, of Glendale, gave birth to Sawyer at 11:50 p.m. Saturday at Banner Thunderbird Medical Center in Glendale, Ariz., near Phoenix. Brother Everett was born at 12:01 a.m. Sunday — the first Arizona baby in 2017.
A girl was born at 11:20 p.m and her brother came into the world an hour later at 12:20 a.m. at Northside Hospital Cherokee in Canton, Ga.
Twin girls were born in San Diego at Sharp Mary Birch Hospital for Women and Newborns, one at 11:56 p.m. and the second at exactly midnight.
Last year, only one set of twins had births in separate years — also in San Diego.
In Arizona, Sawyer weighed 5 pounds, 5 ounces, and Everett was 4 pounds, 8 ounces, hospital officials said. Everett is 1 inch taller than his older brother.
"They are going to be amazing. They already are. They've already left their mark on this world," Holly Shay told KTVK-TV about the newborn fraternal twins.
Holly and her husband, Brandon, came to the hospital about 5:30 p.m. Saturday. Holly was 37 weeks pregnant. She was at full term and did not have a C-section, said Jennifer Ruble, a public relations spokesperson for Banner Health.
"As it was happening we were like, 'oh.' We had a little foreshadowing this could happen and it did," Brandon Shay told KTVK-TV.
"Everett was a little bit more stubborn so he wasn't born until 12:01 a.m."
The Shays also have two daughters, ages 4 and 13.
"It's nice to have two boys … welcome testosterone in the family," Brandon told the Arizona Republic.
"What a way to say, 'Happy New Year.'"
Sixteen babies are born on an average day at the hospital in Glendale. As of 10 a.m. Sunday, three babies, including Everett, had been born there.
"As a mother of twins myself, I was so excited to meet these beautiful healthy new babies!," Ruble told KTVK-TV.