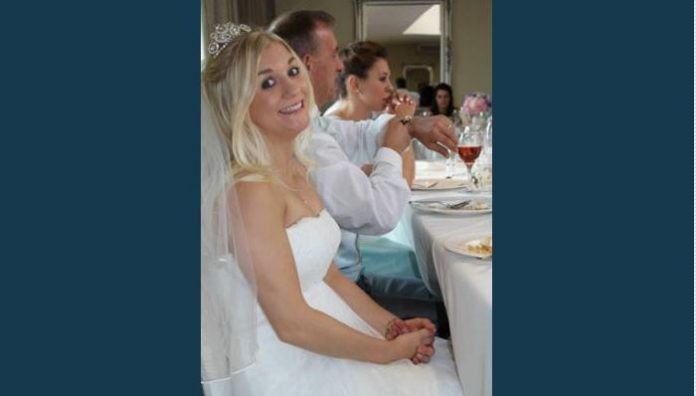 CHESTERFIELD , England, Aug. 20 (UPI) — A U.K. woman placed her wedding dress for sale on eBay to pay for her divorce from her ex-husband who left her to "foot the bill."
Samantha Wragg, 28, placed the size 6 Art Deco wedding dress, up for sale on eBay along with a tongue in cheek description detailing her divorce from her "cheating scumbag of a husband."
"I'm selling this designer Art Deco wedding dress in ivory," she wrote. "Mainly selling as I need to pay for my divorce which my ex-husband has left me to foot the bill for!"
In addition to accepting inquiries about both the dress and "the skank that my husband ran off with," Wragg warned potential buyers to dry clean the dress before wearing to "get rid of the stench of betrayal."
Wragg wrote a blog post explaining the dress barely received any views in its first two weeks on eBay so she took advice from her brother and wrote the comedic description.
"I work in social media for my day job so in the back of my mind I was hoping it would go viral – but I never expected this!" Wragg said. "A lot of people have got the wrong end of the stick and think it's really bitter but anyone who knows me knows I've got a great sense of humor."
Wragg said her parents paid 2,000 British pounds ($2,615) for the dress in 2014 but her clever listing has resulted in bids as high as 65,900 pounds ($86,180) with less than a day left on the auction.
While she was happy with the attention her joke listing received Wragg said she was not interested in divulging the more intimate details of her divorce. She did express interest in appearing on various U.K. reality shows.
Wragg said she left the experience feeling generally positive due to an outpouring of supportive comments and offered forgiveness and well wishes to her ex-husband.
"I wish my ex-husband all the best with everything," she said. "Yes, he made a terrible and really hurtful mistake but he's got to live with that (and without me!) for the rest of his life. I forgive him and I'm very happy now so I hope he is too."