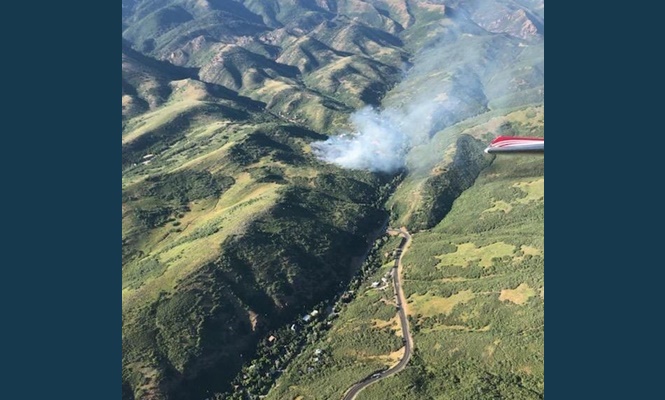 EMIGRATION CANYON, Utah, July 22, 2019 (Gephardt Daily) — Fire crews are battling an aggressive fire near the top of Emigration Canyon on Monday night.
The fire was reported a little after 6 p.m., and smoke was visible from some distance away. A helicopter was quickly summoned to help determine the exact location and size of the blaze, and Unified Fire Authority engines had responded to the scene.
A spokesman for UFA said the fire is burning mostly scrub oak and brush. He said retardant is being dropped over the area to help suppress the flames, and crews will be working throughout the night to get the fire under control.
Mandatory evacuations are in place from Emigration/Pinecrest junction to Pinecrest/Killyon's junction, UFA tweeted at about 9:30 p.m., and Unified Police officers are going from door to door assisting in the evacuation effort.
Pinecrest Road will be restricted until further notice.
It was most recently reported that the fire has scorched 5 to 10 acres and was heading uphill.
Gephardt Daily will provide updates on this developing story as information becomes available.