LOS ANGELES, Oct. 21 (UPI) — Blac Chyna bought herself a $400,000 Rolls Royce on Wednesday, calling the luxury car "a little gift" to herself for all her hard work.
Chyna, who is due to give birth to a daughter with fiance Rob Kardashian, posted a photo on Instagram of herself standing next to the car.
"A little gift to myself for working this hard all year," Chyna said. "Can't wait to bring my baby girl home!"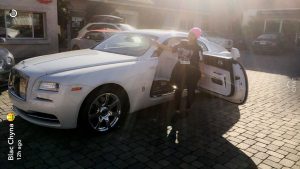 Chyna also shared photos and videos of the car, which features a purple and black steering wheel, on Snapchat.
Kardashian and Chyna are expecting their first child together in November.