PORTLAND, Ore., Aug. 5 (UPI) — Kate Pierson and longtime partner Monica Coleman married in Hawaii over the weekend.
The 67-year-old B-52s singer announced the news by sharing photos from her nuptials Tuesday on Facebook, writing, "#itsofficial!" Pierson and her bride both wore shimmering gowns, and accessorized with white leis.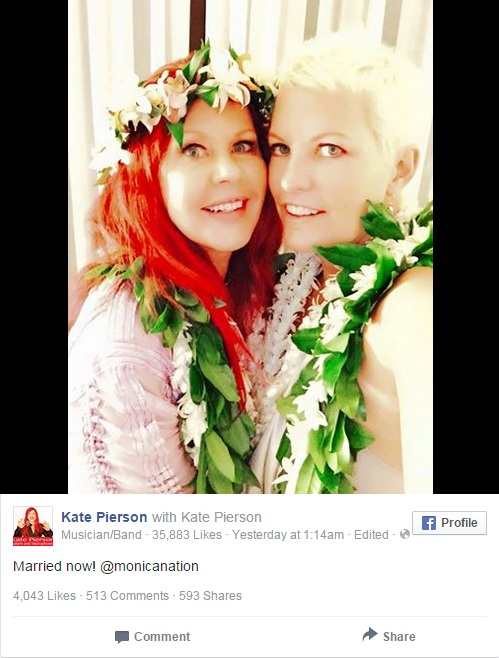 "The wedding was attended by the entire B-52s band," the star's rep revealed to E! News. "Sia Furler and husband Erik Anders Lang were the witnesses … [B-52s frontman] Fred Schneider made the best man speech."
Sia performed a song she wrote for the couple, "Crush Me with Your Love," which appears on Pierson's debut solo album, Guitars and Microphones. The 39-year-old singer was accompanied by Hawaiian musical group the Lim Family.
Pierson and Coleman have been together since 2003. The singer is known for such songs as "Love Shack" and "Deadbeat Club" with The B-52s, which last released "Funplex" in March 2008. She debuted her solo album in February.
Like Us on Facebook for more stories from GephardtDaily.com