LOS ANGELES, Aug. 17 (UPI) — Nina Dobrev said goodbye to The Vampire Diaries at the 2015 Teen Choice Awards on Sunday.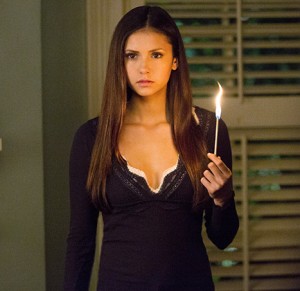 The 26-year-old actress gave a moving speech about her departure from The CW series after winning Choice TV Actress: Fantasy/Sci-Fi at the annual awards show. Dobrev starred as Elena Gilbert on the supernatural drama for six seasons.
"The last few months have been a big change for me," she shared. "Change. It's a scary word, or I used to think that, because it meant new beginnings. New beginnings with a future that was unknown. But change is necessary… necessary to grow up and learn and to better yourself."
"As this chapter of my life comes to an end, I look back at it with a grateful heart, and I smile, because just like my character Elena, I started the show as a young girl, and together we grew up," she added. "These were six incredible years that I had the pleasure of sharing with all of you."
Dobrev announced her departure in April, saying she "always knew [she] wanted Elena's story to be a six-season adventure." The actress bid an emotional farewell to the show the next month, but would be welcome to return at any time, according to network president Mike Pedowitz.
The Vampire Diaries will return for a seventh season Oct. 8, and continue to star Ian Somerhalder, Paul Wesley and Kat Graham. The series follows the supernatural inhabitants, including vampires and werewolves, of the fictional small town Mystic Falls, Va.