NEW YORK, Sept. 18 (UPI) — Several sponsors are pulling out from advertisement slots during The View after hosts mocked Miss America contestant Kelly Johnson for making a speech in her nurse uniform for the pageant's talent portion.
Both Johnson & Johnson and Eggland's Best announced via their respective Facebook pages this week they will not advertise between segments on the daytime television program for an unspecified amount of time.
"We disagree with recent comments on daytime television about the nursing profession," Johnson & Johnson stated Wednesday. "We're committed to raising the level of awareness about the skill and knowledge that the profession requires, and we send our thanks today and every day to the millions of nurses who touch the lives of patients and their families."
On Monday, Sept. 14, View co-hosts Michelle Collins and Joy Behar prompted extreme backlash on social media after discussing contestant Kelly Johnson's choice of talent during the recent Miss America pageant.
"There was this girl who wrote her own monologue and I was like 'Turn the volume up, this is going to be amazing, let's listen.' She came out in a nurse's uniform and basically read her emails out loud and shockingly did not win," Collins recounted of the previous night's televised event.
"Why does she have a doctor's stethoscope on?" Behar asked, unaware nurses too wear stethoscopes as part of the job.
"She helps patients with Alzheimer's, which I know is not funny, but I swear you had to see it," Behar added.
In response to the initial backlash — which prompted the use of hashtags such as #NursesUnite and #NursesMatter — Collins took to Twitter to apologize to nurses writing "You're the last people I'd ever want to hurt. I'm thankful for all the amazing work you do."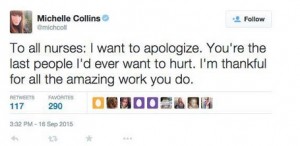 Co-host Behar apologized on Wednesday's broadcast of The View, saying "I didn't know what the hell I was talking about."
After thousands of nurses and advocates turned against the View hosts for their "ignorant" remarks, instead of paying for advertisement, sponsor Johnson & Johnson said it will donate some of the money saved to help provide scholarships to nursing students via its app, Donate A Photo, and the Foundation of the National Student Nurses Association.
"For every eligible photo you post through our Donate A Photo app…Johnson & Johnson will donate $1 to provide scholarships…up to $50,000," the medical and health brand said.
Eggland's Best followed suit in its response to the Behar and Collins' comments by announcing it too will pull its advertisements from the program. "Eggland's Best appreciate's nurses and values the important role they play in family health," a statement read. "In light of the comments about the nursing profession recently made on daytime television we will no longer be advertising on the show in question."