Star Wars Fans Get a Special 'Inside Look' at "The Force Awakens" at San Diego's Comic-Con
San Diego – July 10th, 2015 – (Gephardt Daily) – Lucky 'Star Wars' Fans attending the San Diego Comic-Con were treated to a very special behind the scenes look at "Star Wars:The Force Awakens" by director J.J. Abrams, producer and Lucasfilm President Kathleen Kennedy and writer Lawrence Kasdan.
The attending crowd went wild as director J.J. Abrams and the film's producers were joined on stage by cast members Daisy Ridley, John Boyega, Adam Driver, Oscar Isaac, Domhnall Gleeson, Gwendoline Christie, Mark Hamill, Carrie Fisher and Harrison Ford.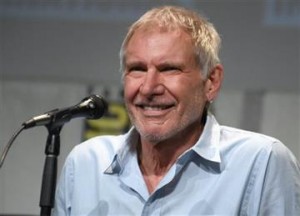 When asked about returning to his role as Han Solo after 30 years, Ford was quoted as saying, "It should've felt ridiculous," [it was] was 30 years ago, and I sort of grew up. And yet here I was doing something I did so long ago and I will tell you that it felt great." Ford added, "I wasn't so sure it would be but the company was the right company, the director was the right director."
Ford continued, "Larry wrote us a wonderful story and I was proud and grateful to once again be involved. The original "Star Wars" that I was a part of really was the beginning of my working life and I was very, very grateful for the opportunity that I had in that film and for the success of that film. It was great to be back. I was very grateful when I read the script; because I read something that I thought was really remarkable, really well written and with some very intriguing developments."
"Star Wars: The Force Awakens" will be released December 18th.