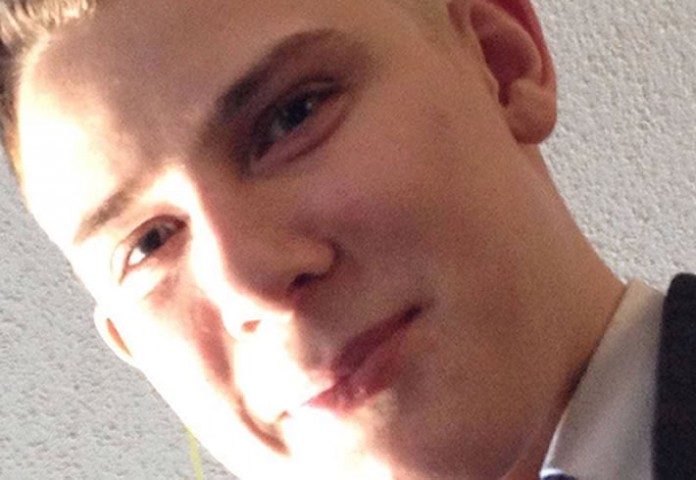 ST. GEORGE, Utah, March 2, 2017 (Gephardt Daily) — Yesterday was the day they thought would never come.
It was the 18 month anniversary of St. George teenager Macin Smith's disappearance.
The past year-and-a-half has been the longest of his mother Tracey Bratt-Smith's life, as well as her family's, she said.
Macin walked away from home at the age of 17 in the early morning hours of Tuesday, Sept. 1, 2015. April 7 will mark the 19th anniversary of Macin's birth.
Macin, the last of the Bratt-Smith and her husband Darrin's six children living at home, walked away when his parents thought he was on his way to school. He left behind his cellphone, wallet, laptop, even his school binder.
Macin did leave a note, which his parents discovered a week later folded inside his wallet. They have not released the contents, preferring to say the note contained an "intent," which led them to believe he may have planned to harm himself.
Speaking exclusively to Gephardt Daily, Bratt-Smith talked about the family's decision to keep a forward trajectory while still attempting to keep hope alive.
"This has been the longest 18 months of our lives, yet we have no other choice but to move forward and think of new and creative ways to get Macin's story out to the public," she said.
"If you have been following Macin's Facebook page, you have seen some of the creative ideas. Stamping money, using Macin's info as a signature on one's email, bumper stickers, and new T-shirts coming out."
She said family friend and spokeswoman TaeLynn Johnson been instrumental with this recent flurry of forward motion.
Bratt-Smith added there will also be new billboards coming out, and advertising on some public transits.
"Leads still come in, but it's declined from the last month or so," she added. "Hope is still there until we know otherwise."
There have been multiple possible sightings of Macin, and interest in the case ramped up early this year after possible sightings of Macin in the northern California city of Modesto. A handful of potential sightings were also reported just before that in the Sacramento area. Police are investigating in both areas. Modesto and Sacramento are 75 miles apart.
Bratt-Smith and other family members have posted Facebook updates almost every day to the Help Find Macin Smith
page
, whose members have swelled in number to 27,588, in the hope of bringing him home. There is a $10,000 reward in place for information leading to Macin's location.
On Wednesday, Bratt-Smith posted the following:
1 March 2017
Dear Macin's Army:
Another milestone we did not want to cross. 18 months today.
Macin, it's time to come home sweetie. We love you!!!! Every one of us misses you more than you know. No one is angry with you. We just want to know you're all right. We hope you are safe. We hope you have shelter. We hope you have the food you love. Not a day, not a minute goes by that we don't think of you.
Love,
Your Momma
This spring, Macin's story will be featured on the Investigation Discovery Channel documentary series "Disappeared."
Macin is 6 feet 4 inches tall and weighs 200 pounds. He has light blue eyes and he had short blond hair when he went missing. The Smith family moved to Utah from Canada in spring 2015. Prior to that, Macin was raised in Saratoga Springs, which is west of Lehi. He started kindergarten and attended school through eighth grade in the Saratoga Springs area.
Anyone with information about Macin is asked to call the St. George Police Department at 435-627-4300, or David Cummings at Red Rock Search and Rescue at 702-787-4068.