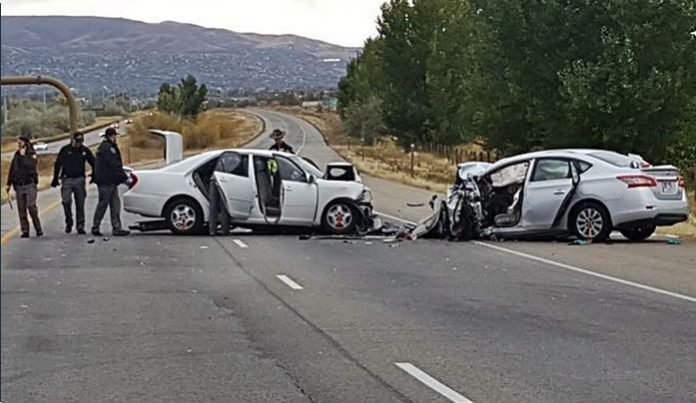 DAVIS COUNTY, Utah, Oct. 19, 2019 (Gephardt Daily) — Two people died at the scene and three others were injured, one extremely critically, when a wrong-way driver collided head-on with a southbound driver on southbound Legacy Parkway.
The accident happened at about 11:30 a.m. at mile marker 10, in Farmington, Utah Highway Patrol Sgt. Lawrence Hopper told Gephardt Daily at the scene.
A white sedan was traveling northbound in the wrong portion of Legacy, which is a divided roadway with a large grassy median dividing lanes going different directions.
"The vehicle collided head on with another vehicle," Hopper said.
The white vehicle had three occupants, he said.
"The rear passenger, a male passenger in the white vehicle. He sustained fatal injuries and died on scene of his injuries," Hopper said.
The driver and the front passenger from the white, wrong-way sedan were transported to McKay-Dee hospital in unknown condition, but injuries were not life-threatening, Hopper said.
"The vehicle that was going southbound in southbound lanes, the driver was transported to the University of Utah Hospital via helicopter," he said, adding she was in extremely critical condition.
"There was a female passenger that sustained fatal injuries, and she died on scene of her injuries."
Hopper estimated that the female victim was in her mid 20s. She has been identified, but her name is being withheld pending next-of-kin notification. She is a Utah resident, Hopper confirmed.
The deceased male has not yet been identified, but appears to have been in his early 30s, Hopper said, noting his guess could be off.
Hopper said at that point, the hospitalized driver of the wrong-way vehicle had not been interviewed, so no explanation for her traveling in the wrong direction was known.
"We don't know if there was a medical situation, if there was impairment, a distraction or a mechanical failure," Hopper said. "We have no idea why they were going the wrong way."
Hopper said he expected the southbound lanes of Legacy Parkway to be reopened by mid-afternoon.
"We're going to be doing our measurements and photos, making sure we get everything we need as far as the evidence goes."
The northbound lanes never closed. The closing of southbound Legacy Parkway caused no driver inconvenience, Hopper said, since it runs parallel to Interstate 15, and travelers could be directed to I-15.
Hopper said people often ask him what they should do if they encounter a wrong-way driver. He suggests scanning ahead to give yourself more time to react.
"If you're looking at the vehicle in front of you, you're not going to have any time to react if there's a wrong-way vehicle. We recommend that when you're traveling on the freeway, you just scan as far as you can to see any kind of hazards that may be ahead of you. If there's a wrong way vehicle and you're scanning far ahead, you have time to react to it, and that would be to move over to avoid getting hit.
"If you don't have time, always wear your seatbelt, and if you can swerve to avoid a collision, that's what we recommend."