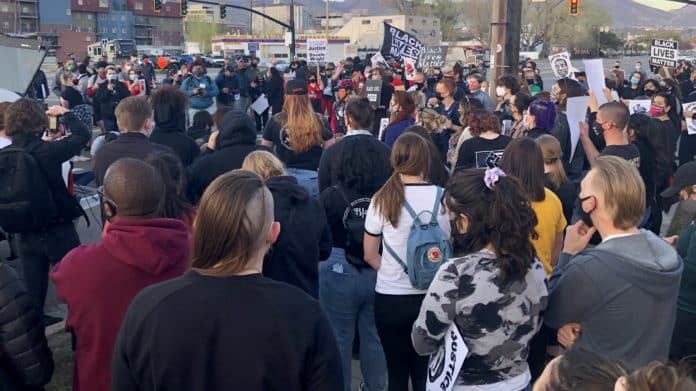 SALT LAKE CITY, Utah, April 20, 2021 (Gephardt Daily) —  Hundreds of people marched through Salt Lake City Tuesday evening after a jury found former Minneapolis Police Officer Derek Chauvin guilty on all charges in the 2020 death of George Floyd.
On Tuesday, Chauvin, 45, was found guilty of:
Second-degree murder

Third-degree murder

Second-degree manslaughter
Chauvin's bail was revoked, and he was taken back into police custody. He will be sentenced at a future date, and faces up to four decades in prison.
Utah reaction
Just hours after the verdict, supporters began to gather at the Salt Lake City Public Safety building, at 475 S. 300 East Tuesday. The group here swelled to approximately 500 people by 7 p.m., when it began a march to the area of 300 West and 800 South, to the site of murals of George Floyd and others who have died at the hands of police.
Rally participants chanted "Black Lives Matter" and "Justice for George Floyd." Numerous people laid flowers at the mural of Floyd.
Mario Mathis, 45, from Logan, paused to share thoughts with Gephardt Daily.
"I was a little surprised that they convicted him guilty on all three charges, but it still made me sad," Mathis said. "It made me sad because it's taken this long to get a little fragment of justice. It's not what we really want, we want black people to not be shot. We want brown people to not be shot. We want indigenous and people of color to not be shot and killed by the police and get away with it like they have routinely.
"Like, I'm used to, when I see the news headline, about another police officer got off, I'm used to that feeling, and that says a lot, that speaks volumes to where this country has dragged us down to, where this world has… racism is universal, you know, it's not just in the United States."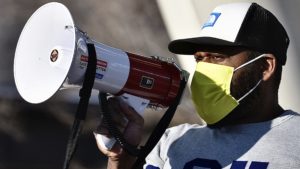 Mathis added: "I want this justice, this little bit of justice, to continue, and to grow into the justice that we really want, and that's for BIPOCs to not be killed, murdered by the police and then exonerated. Tomorrow … I feel the same, I feel the same momentum, we need to take to the streets and take task, take up the task of getting, we still don't have police reform, you know? We got a guilty verdict on three charges, but we don't have police reform.
"The police infrastructure is still exactly the same as it was when George Floyd was murdered. There's lots of work to do. Racism is still pervasive and still a problem, we got a verdict today, that's it, the other things have not changed."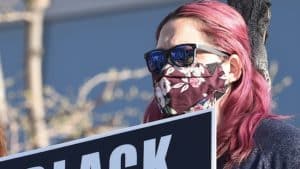 Utah leaders react
Earlier Tuesday, Salt Lake City Mayor Erin Mendenhall tweeted her response to the verdict and to work remaining.
"The work toward a more just Salt Lake City began in the days and weeks following the death of George Floyd last year," she wrote. "Today we remain committed, and we will move forward by continuing our pursuit of becoming a more just and equitable city for all of our residents.
"I was proud to stand today with our Commission on Racial Equity in Policing Commissioners who have dedicated themselves to this work over the last year. I'm looking forward to moving ahead together. There can be no justice without accountability."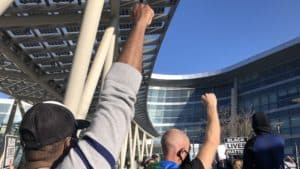 Salt Lake County Mayor Jenny Wilson also released a statement:
"My thoughts are with the friends and family of George Floyd and the nation as a whole," she wrote.
"After having the opportunity to observe much of the Derek Chauvin trial, I am pleased with the results of the jury. It's clear that George Floyd was murdered without remorse. Our nation has skilled and committed police officers but also those that operate in their roles with bias and without regard for human life and liberty. There needs to be accountability.
"As a community, I ask that we work collaboratively to address systemic issues regarding race and justice as we seek to reshape our institutions in order to promote accountability and justice."
The Utah Jazz tweeted a verdict response:
"Our hearts are with the George Floyd family today. His murder — among too many examples of senseless killings, systematic racism and injustice — has only heightened the urgency to peacefully and emphatically work towards creating sustainable and meaningful change.
"The work ahead of us remains clear, our resolve is strong, and out actions must be even stronger."
Utah DPS response
The Utah Department of Public Statement also released the following statement:
"The Utah Department of Public Safety remains committed to humanity, justice and equity for everyone within our state's borders. We honor the inalienable rights of the people and the rights that DPS officials are constitutionally sworn to protect.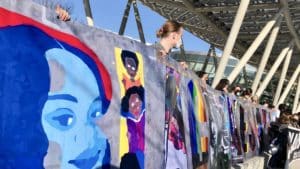 "Over the past year, we have worked to build important relationships with stakeholders in the police reform movement spurred by Floyd's death. Our outreach within the multicultural, social justice reform and religious communities in our state has led to numerous codified reforms, both in policy and law, to which law enforcement officers statewide are now held accountable.
"We worked quickly with the Utah legislature in June 2020 on legislation banning knee-on-neck and other choke holds by Utah law enforcement officers.
"Peace Officer Standards and Training, working with the Utah legislature, has updated and is updating its curriculum to include more training for vetted and legal arrest control techniques, crisis intervention training, modern mental health awareness, and updated de-escalation techniques.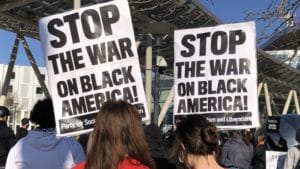 "We are committed to future reform efforts, including transparency, training, accountability, punishment of officer misconduct, community engagement, fairness, and social justice. We join Gov. Cox in urging Utahns who plan to respond to the verdict to do so within the bounds guaranteed by the First Amendment. We will respect personal safety, life and property. Any threats against such will not be tolerated."
Utah Gov. Spencer Cox had released a statement on Monday, urging urging Utahns to remain peaceful regardless of the verdict.
"We understand that tensions around the Derek Chauvin trial remain high," Cox's Monday statement said. "We acknowledge and respect the judicial process that has played out and the weighty decisions made by the judge and jury. As the verdict is announced, we urge Utahns to respond within the bounds guaranteed by the First Amendment. We will respect personal safety, life and property. Any threats against such will not be tolerated."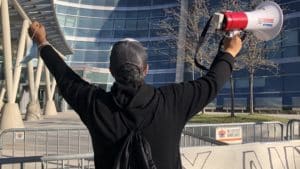 Floyd's death
Floyd died on May 25 of last year, after a shopkeeper accused him of using a counterfeit $20 for a purchase, and police were summoned. Chauvin, the senior officer at the scene, knelt on Floyd's neck as an attempt to subdue the suspect.
Chauvin was caught video recorded on bystanders' phones as he knelt on Floyd's neck for 9 minutes and 29 seconds. During most of the nearly 10 minutes, he begged for release, he begged for air, and he ultimately begged for his later mother. Bystanders also begged on Chauvin's behalf, to no avail.
Floyd was unconscious when Chauvin removed his knee, and Floyd was pronounced dead at the hospital.
It was Floyd's death that sparked protest in Salt Lake City and elsewhere in the state nearly a year ago. In Salt Lake City, organizers planned a peaceful protest, but a small percentage of people attending later turned destructive, vandalizing state and commercial buildings, and flipping and burning an SLCPD patrol car.
Eventually, Salt Lake City police were called out in riot gear, and a number of arrests were made. Several people also suffered injuries in the melee.
Gephardt Daily has a crew at the scene and will update this developing story through the evening.