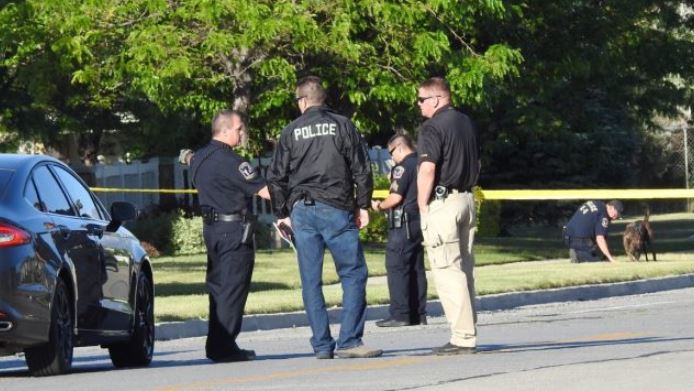 WEST JORDAN, Utah, June 3, 2018 (Gephardt Daily) — Officers were called to the scene of a shooting late Sunday afternoon, after two groups of juveniles exchanged words and the incident escalated to rock throwing and gunfire.
West Jordan Police Sgt. J.C. Holt said the incident, in the area of 7000 South and 4600 West, involved one group in a parked car and the other on the sidewalk.
"Apparently, words were exchanged between the two groups, and someone in the car brandished a handgun toward the other males (on the sidewalk)," Holt said.
It was reported to police that one of the juveniles then picked up a rock, threw it at the car, breaking out the car window, and a fight ensued.
Holt said the car then sped off, and as it did so, several shots were fired from inside the car at the group out on the sidewalk.
"By the time officers got here, no one was here," Holt said. "The neighbors had called it in."
Some of those involved, however, returned to the scene and are cooperating with police.
Officers also began tracking down the others.
"We have one male who is at a local hospital. He got his own ride there," Holt said. "He has non-life-threatening injuries that include gunshots… and we just recently located the car in another part of the city, with another one of the males involved."
The gunshot victim was reported in fair, but stable condition, and detectives were interviewing him in the hospital.
Police are also talking with several neighbors who said they witnessed the altercation and gunshots.
Holt said the investigation is "very much ongoing," as police work to sort out all the details.
The exact number of people involved wasn't yet clear, but Holt said he was told there were more than five.
West Jordan police officials tweeted Monday morning that all those involved in the shooting were juveniles, and one of those has been booked into detention.
The teen that was struck by the bullet is recovering and will be OK, officials said.
At this time it does not appear the incident was gang related.
No more information will be released at this time, officials said.