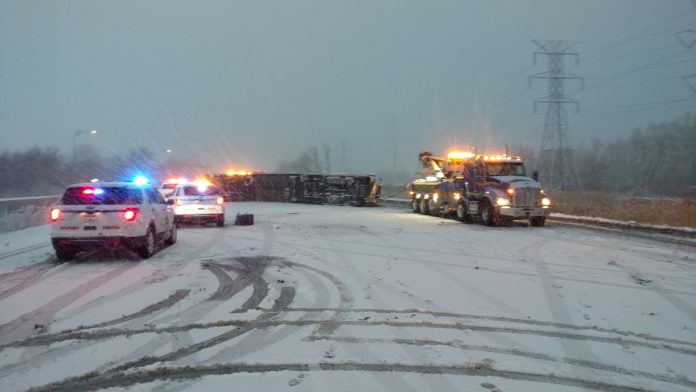 BOX ELDER COUNTY, Utah, March 4, 2018 (Gephardt Daily) — A major storm continued to pound northern Utah and the Wasatch Front on Sunday with winter storm warnings from the National Weather Service remaining in effect until 10 p.m.
The overnight storm dropped more than a foot of snow in areas around the Wasatch Front — from nearly 14 inches on the Bountiful bench to 15 inches in Olympus Cove.
Salt Lake City saw an average of about 8 inches, although Millcreek, Cottonwood Heights, Sugarhouse and Sandy had received 10 inches to a foot by late Sunday morning.
A winter storm warning was to remain in effect until 4 p.m. Sunday for the northern Wasatch Front, Salt Lake and Tooele Valleys, southern Wasatch Front and Great Salt Lake Desert and Mountains, including the cities of Brigham City, Ogden, Bountiful, Salt Lake City, Tooele, Lehi, Provo, Nephi, Wendover and Snowville.
A second winter storm warning remains in effect until 10 p.m. for the Wasatch Mountains north of I-80, Wasatch Mountains south of I-80 and Western Uinta Mountains, including the cities of Woodruff, Randolph, Alta, Brighton and Mirror Lake Highway.
The snow and ice turned Utah roadways into skating rinks, with the UHP reporting numerous slide-offs and other accidents up and down the Wasatch Front.
Southbound lanes of Interstate 15 in Box Elder County were shut down for two hours early Sunday morning after two semitrailer rollovers.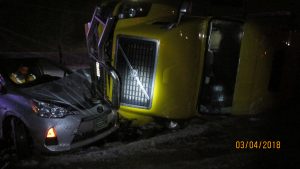 A news release from the Utah Highway Patrol said both the incidents occurred at approximately 5:30 a.m. in the area of mile post 356 and 357 near Willard.
"The first semi jack-knifed and rolled at mile post 357 blocking the entire freeway," the news release said. "A small passenger car was unable to stop and struck the cab of the semi."
The second semi went off the right shoulder at mile post 356 and and overturned in a ditch.
No injuries were reported in either incident.
I-15 was closed for two hours at exit 357 with traffic being re-routed off at 357 to SR-89, and then back to I-15. I-15 was reopened at approximately 7:30 a.m.
Salt Lake City Mayor Jackie Biskupski posted on Facebook Sunday morning: "Please stay warm, drive slow, and remain safe out there this morning. With fresh snow hitting #SLC, our Salt Lake City Public Services and Salt Lake City International Airport (SLC) snow fighters are out in force to keep streets, roadways and runways clear.
"You can track #snowplows in real time by using an interactive map and see our snow removal priority map. Stay safe."