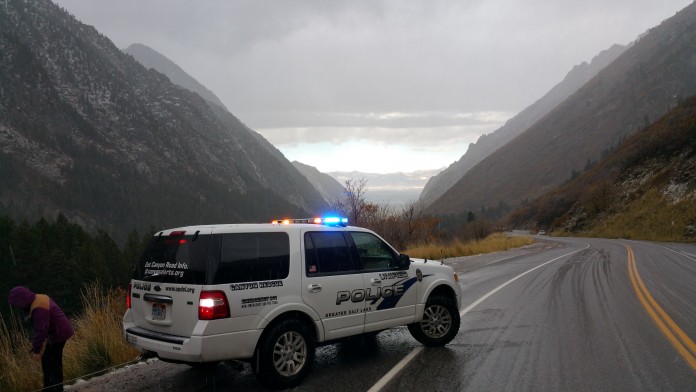 LITTLE COTTONWOOD CANYON, UTAH – November 3, 2015 (Gephardt Daily) – A man and a woman in their 20s were unhurt but shaken after their car slid off the road and barreled 150 feet onto a creek bottom Tuesday morning.
Unified Police spokesman Lt. Lex Bell said the car was coming down out of Little Cottonwood Canyon while sleet and snow were falling. "The road was slick, and they were unable to make a turn due to the conditions on the road and drove straight off the canyon into the creek bottom, a good 150 feet." Canyon officers were able to throw a rope down the canyon and pull the occupants up and out on foot.
"They are lucky given the positioning of that car that they weren't hurt, and it stayed upright as it went down the hill," Lt. Bell said.  "It's extremely steep and just as a reminder at this time of year, as it starts snowing, you need to slow down and adjust for the conditions, especially early in the year. You need to make sure your tires are good and your vehicle is in good condition before you come up in these conditions."
Lt. Bell said it doesn't appear the driver was impaired, but was going too fast for the existing conditions and was unable to negotiate the turn.
"There is going to be quite a bit of damage to the vehicle but this could have ended a lot worse," he said. "We want to remind people that four-wheel drive doesn't make you stop."
High wind and winter storm advisories are in effect across Utah Tuesday.