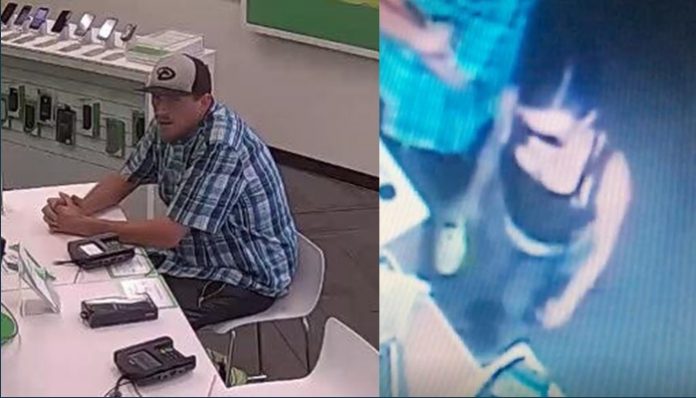 For an updated story, click here.
ST. GEORGE, Utah, Aug. 20, 2018 (Gephardt Daily) — St. George police are searching for a man and woman after a spate of thefts from unlocked vehicles in church parking lots.
St. George Police Department said in a Facebook post Monday that the two suspects are visiting church parking lots and taking items out of vehicles while church is in session.
Officials said the two are travelling in a gold Saturn, with Nevada license plate number 204FKZ.
"It was stolen out of Las Vegas along with a large amount of guns," the post said. "The male and female are considered armed and dangerous."
The man shown in surveillance photos is Caucasian, with a short beard, wearing a black and white baseball cap, a green, blue and white plaid shirt, dark shorts and neon yellow sneakers. The woman appears to be Caucasian, with black hair tied back, sunglasses, a black tank top and jeans.
Anyone who recognizes the car or the suspects is asked to call St. George police at 435-627-4300. Officials are also reminding the public to remove all items from vehicles and keep them locked.