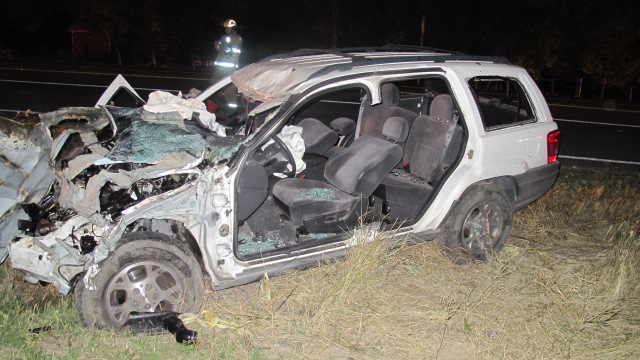 FAIRVIEW, Sanpete County, Oct. 3, 2016 (Gephardt Daily) — A man and woman driving home with their grandson were critically injured Monday night when they crashed their Jeep Cherokee into several cows on U.S. Highway 89.
Sgt. Todd Royce, of the Utah Highway Patrol, said the crash occurred at about 7:30 p.m. south of Fairview, as an area farmer was herding the black cows across the road. Royce said at the time of the accident there was "very low light — it was dusk, almost dark."
Royce said at least eight cows were on the road and were struck. Six of the cows died, Royce said, and the other two were severely injured. According to a news release from Utah Highway Patrol, the two cows died of their injuries.
UHP also said a 16-year-old on a 4-wheeler was assisting with herding the cows, but there was no other traffic control. When the 16-year-old saw that the Jeep wasn't slowing, he ran, but was hit by one of the cows that was hit by the Jeep. He had minor injuries, and the 4-wheeler was damaged by either a "flying cow or the vehicle," UHP stated.
The names and ages of the people in the Jeep have not been released, but Royce said the man and woman were an "older couple."
According to UHP, the grandson of the couple was in the back seat, was not belted, and came forward, breaking the seat of the front-seat passenger. He had a large cut on his head and arm, and was admitted to Sanpete Valley Hospital.
The two in the front of the Jeep had major facial trauma and were both flown to Utah Valley Regional Medical Center from Sanpete Valley Hospital. Both appeared to be wearing their seat belts, UHP stated.
Any and all applicable charges will be screened through the Sanpete County Attorney's office.