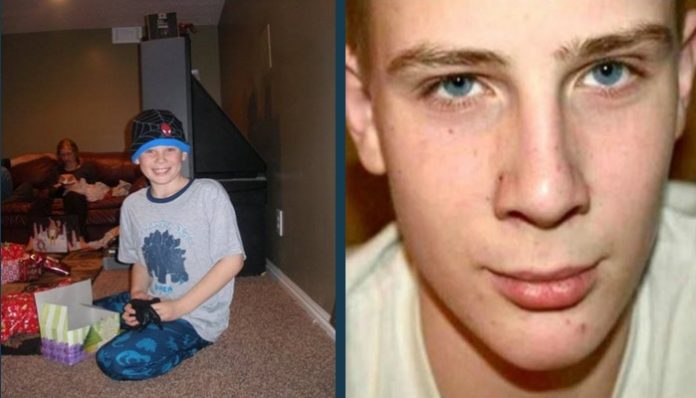 ST. GEORGE, Utah, April 8, 2018 (Gephardt Daily) — Turning 20 is a major milestone in any young person's life; a time when a teen becomes an adult, and a boy starts to decide how his life might look when he's a man.
But for Macin Smith's family, heartbreakingly, that is a transition that they might never get to see, as they faced the 20th anniversary of his birth Saturday.
Macin went missing from his home in St. George at age 17 on Sept. 1, 2015. He walked away early in the morning when his parents thought he was on his way to school, and vanished without a trace.
For Macin's mom, Tracey Bratt-Smith, and dad, Darrin Smith, these two years and just over seven months have been a roller coaster of emotions.
Speaking exclusively to Gephardt Daily, as she has done throughout this journey, Bratt-Smith describes marking his birthday.
"Macin's birthday was peaceful and calm," she said. "Macin's dad and I went on a two-and-a-half-hour hike and just thought and talked about Macin. Tears were shed as we discussed the very real possibility that the more time that passes, the less likely he is walking the earth. Every once in awhile I allow myself to think of that outcome and it hits hard. I like to think more optimistically naturally."
She also talked about the latest developments in the case, including ongoing attempts to access the content of Macin's hard drive, as well as the imminent release of age-progressed pictures.
"I think the main thing right now that's probably pertinent is the hard drive provided by St. George Police Department that was given to us encrypted, and we've tried multiple programs to attempt to access the content," she said. "Right now, one of Macin's Army members is focusing on that and we are hoping that the content might provide some insight."
She added that age progression images of Macin from the National Center for Missing and Exploited Children (NCMEC), an organization she praises, will be released in just over a week.
"That should be helpful to see what a 20-year-old Macin will look like," she said. "I know they will do a good job on that. We had to submit pictures of Darrin and I and Macin's siblings all about that same age. They seem to be thorough."
Bratt-Smith also spoke about the strength of Macin's Army, the name given to those who follow the Help Find Macin Smith Facebook page, and who have taken part in a myriad methods to attempt to locate her son.
"Macin's army is 56,000 strong due to the birthday push for sharing Macin's story," she said. "Seems unfathomable to me. One hundred and six different countries representing? Unbelievable. I know Macin's Army's next move will be something in the fall for the three-year mark of Macin's disappearance. The Facebook page is evolving into more of a resource for families of missing loved ones all over the nation. We are proud to have facilitated or helped support some of the families who have had positive outcomes in regards to lost loved ones returning. I know this was my brother's intent for the page from the conception. My brother has the biggest heart and has been a most amazing support for so many struggling with the same horrific circumstances."
Macin, the youngest of the Smith's six children and the only one who was still living at home, left behind his cellphone, wallet, laptop and his school binder.
Macin did leave a note, which his parents discovered a week later, folded inside his wallet. They have not released the contents, preferring to say the note contained an "intent," which led them to believe he may have planned to harm himself.
Macin has light-blue eyes, and he had short blond hair when he went missing. He is 6 feet 4 inches tall and weighed 200 pounds before his disappearance.
There is a $10,000 reward in place for information leading to Macin's location.
Anyone with information about Macin is asked to call the St. George Police Department at 435-627-4300.