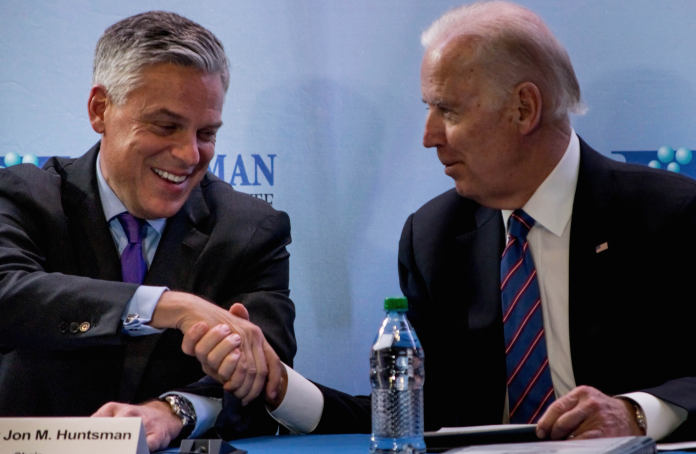 SALT LAKE CITY, Utah, Dec. 3, 2018 (Gephardt Daily) — Former Vice President Joe Biden will speak at the University of Utah next week, officials announced Monday morning.
A news release from the U of U said Biden will speak on Thursday, Dec. 13 at noon at Kingsbury Hall, 1395 Presidents Circle.
Tickets will be free to U students with their UCard and will be available at the Kingsbury Hall ticket office beginning Dec. 4 at 10 a.m.
Tickets for community members will be limited to two tickets per person and will cost $10. They will be available online and at the ticket office beginning Dec. 7 at 10 a.m.
Biden's appearance is sponsored by the U of U MUSE Project , a university presidential initiative that works to enrich undergraduate education across the U.
A brief 15-minute Q&A session will follow the keynote address, and guests may submit questions prior to the event here. Questions must be submitted by Dec. 7, the news release said.
"Each year, MUSE chooses a theme and centerpiece text as the basis for its educational work," the news release said. "'Purpose' is the 2018-19 theme, and the accompanying book is Vice President Biden's 2017 memoir, 'Promise Me, Dad,' a New York Times No. 1 Bestseller that chronicles the last year of his son Beau's struggle with a malignant brain tumor that took his life in 2015. MUSE will host a series of lunchtime lectures, book discussion groups and other activities designed to facilitate reflection and encourage undergraduate students to find purpose in their educational journeys."
Through a grant from the O.C. Tanner Company, MUSE will provide 1,000 copies of Vice President Biden's book free of charge to U students and other members of the university community. The books will be available beginning Dec. 7 at the MUSE office in the Sill Center, 195 South Central Campus Drive.
"Vice President Biden's memoir is in many respects an example of wisdom literature," said Mark Matheson, director of MUSE and English professor. "This was a genre that flourished in the ancient Near East, and it was a means of imparting perspective and hope to readers. In this kind of literature, a person of rich experience—often involving great trials and suffering—reflects on these challenges and offers a kind of personal testament to the continuing value of life. In 'Promise Me, Dad,' Vice President Biden tells the story of how he draws on family, faith and the ideals of the nation to endure loss and to affirm life in the face of great pain. Our students struggle with many similar challenges, and we think they'll benefit from learning about the resilience exemplified by the former vice president and his family. We're confident that Vice President Biden will inspire U students to continue—even in times of hardship—to build their own lives and to lift up the lives of others."
Biden also visited the U of U campus in Feb. 2016, when he came to the Huntsman Cancer Institute as part of the former White House administration's launch of the "Cancer Moonshot" initiative, an effort to increase the rate of progress toward curing cancer.
"We're delighted to cooperate with the Huntsman Cancer Institute to bring Vice President Biden to campus," said MUSE Program Manager Libby Henriksen. "Purpose is an important institutional theme, and we're pleased that two of the U's significant missions—health sciences and undergraduate education—are coming together in support of this event."
While the event is free to students and open to the public, tickets are required, and space is limited. Seating will be provided on a first-come, first-served basis, and a ticket does not guarantee admission. All ticket holders must be in their seats by 11:45 a.m. Doors open at 11 a.m., and guests are encouraged to arrive early. The event will not be live streamed, and a book signing will not be available. For inquiries, contact MUSE at [email protected].