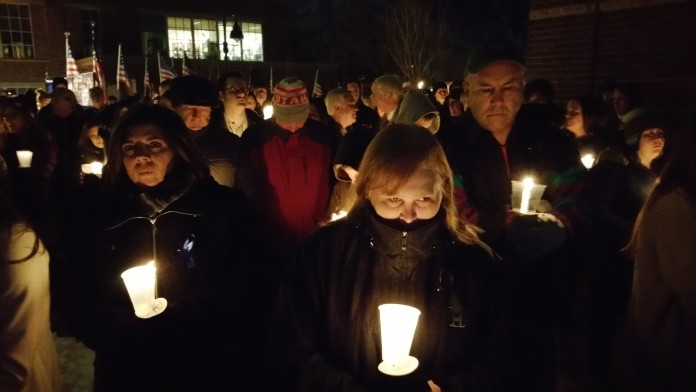 HOLLADAY, Utah, Jan. 24, 2016 (Gephardt Daily) — Memorial services are always difficult, and maybe more so when the deceased is cut down in the prime of life.
So last week's candlelight vigil for Unified Police officer Douglas Scott Barney, 44, who was shot and killed Jan. 17 in the line of duty, could have made his friends, family and community supporters feel much worse when they arrived for the gathering.
But Sgt. Lex Bell said that's not what happened.
"We are just celebrating Doug and his life," Bell said, at the vigil. "Everyone is telling their funny Doug stories."
Bell had a few of his own "funny Doug stories" to share.
"One of my favorites is about a chase we were in with a stolen car," Bell said, smiling at the memory.
"The driver was going about 120 mph, passing people on the right shoulder, and we were staying with him, Doug a little ahead of me. He was one of the best drivers I have ever known."
Barney edged his patrol car to one side of the dangerous driver, then suddenly both cars were gone in a large cloud of dust, headed toward an area of wetlands.
"I saw the cars spinning through the air, and I slammed on my brakes, going into the huge cloud of dust," Bell said. "I saw Doug's car door open, but no Doug. Then I saw cattails bending and flapping, then Doug coming out, and he just points in front of him."
The speeding driver had crashed ahead, and Bell ran at a full spring until he stepped in a river and found himself knee deep in mud. Freeing himself, he ran up a small hill and caught up with the suspect. Bell held the man at gunpoint while waiting for his backup to arrive.
"I waited awhile for Doug and another officer named Tim, then I holstered my gun and handcuffed the man," Bell recalled. "Then I walked about 50 yards back, and there's Doug, in mud up to the middle of his chest, and Tim's in the same situation, in almost to his neck, and they're stuck, completely stuck in this cattail swamp."
Bell helped pull his friends out.
"I remember Doug standing there, pouring the mud out of his boots and gun," Bell said, smiling. "I teased them about not being able to jump over a 6-foot river, and how I had to clean up for them of the suspect would have gotten away."
Bell also said Barney was, "the most selfless person I have ever known. He would give you the shirt off his back, quite literally, even if he he was having a hard time himself."
Barney once lent a car, "for a while," to a friend in need, Barney said.
"A year later, Doug's wife asked the car was, and he said, 'Oh, he still needs it,'" Bell said. "He more or less gave this person a car. And now it sounds like Erika (Barney's widow) is just going to sign it over."
FUNERAL DETAILS
Memorial service: Maverik Center, 3200 Decker Lake Drive, West Valley City
When: 11 a.m. Monday, Jan. 25. Come early for best parking.
Graveside service: Orem City Cemetery, 1520 N. 800 East, Orem