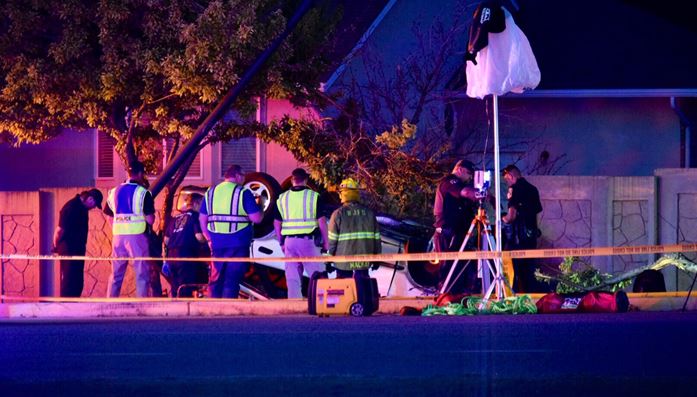 WEST JORDAN, Utah, July 6, 2019 (Gephardt Daily) — A teenage girl was killed in a rollover accident in West Jordan in the early hours of Saturday.
The accident happened at about 1:15 a.m. in the area of 7800 South and 4800 West.
"It was a single vehicle with teenagers in the car," Sgt. J.C. Holt, West Jordan Police Department, told Gephardt Daily.
"It looks like it might have been a case of distracted driving. The driver lost control. A young girl, 15, was in one of the passenger seats, and she was ejected. She passed away from her injuries."
West Jordan Police Officer Jennifer Worthen later said it had been determined that the fatally injured girl was 14 to 15 years old. Her name has not yet been released.
There were five juveniles in the car, Worthen said. The driver was transported to Intermountain Medical Center in a private vehicle. Worthen added that the driver was of legal driving age.
Worthen said it is believed at this time that the driver drifted toward the median, moved to avoid it, and overcorrected, hitting the curb at which point the car rolled over.
The crash analysis reconstruction team responded to the scene, and the accident is still under investigation.
Gephardt Daily will have more information as it is made public.
See video from and photos from the accident scene below.