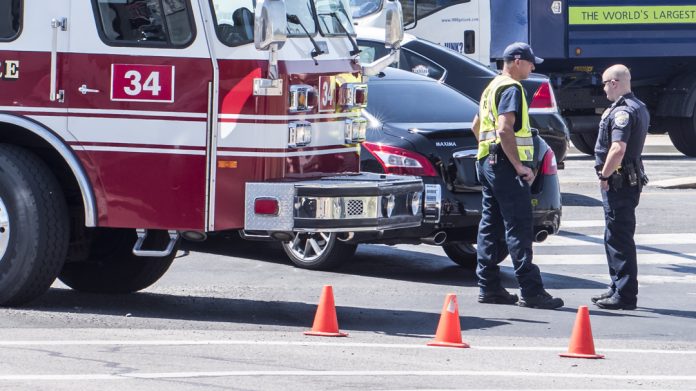 SANDY, Utah, June 26, 2018 (Gephardt Daily) — Bystanders became heroes in Sandy on Tuesday afternoon after a car struck a bicyclist, leaving the rider critically injured and pinned beneath the vehicle in the twisted wreckage of his bike.
Witness Steven Ledbetter said he was driving in the area, near 1300 East and Sego Lily Drive in Sandy, when he saw the man on his bicycle.
"As I was getting ready to turn, the guy was gone, and a ton of people were jumping out of their cars, and everybody went to the side of the car," Ledbetter told Gephardt Daily.
"And as soon as they started lifting, that's when I ran up and grabbed the guy by the shoulders, and I pulled him out."
Ledbetter then took out his belt and used it as a tourniquet, he said, to stop the heavy blood flow from the man's leg, which was bent forward and had a visible compound fracture.
"Then we just kept asking him questions, holding his hand, telling him it's going to be OK," Ledbetter said. "People wanted to get him out of the road, but I told them they couldn't move him until the ambulance came."
While they waited, Ledbetter said many of the 10 to 13 people who had helped raise the car stood around the 54-year-old victim, to provide shade. A nurse who arrived was able to help the man, and a doctor who came later offered guidance, Ledbetter said.
"And within 5, 10 minutes, the ambulance came, and everybody kind of stepped off. Then they loaded him up and were gone with him in a matter of minutes," Ledbetter said.
Sgt. Jason Nielsen, Sandy City Police Department, confirmed to Gephardt Daily that a group of people had stepped in to help the bicyclist, who was hit by a 23-year-old man driving a Nissan Maxima. The driver is cooperating with police, Nielsen said.
The bicyclist remains in critical condition, Nielsen said. The investigation into what caused the accident is ongoing, he said.