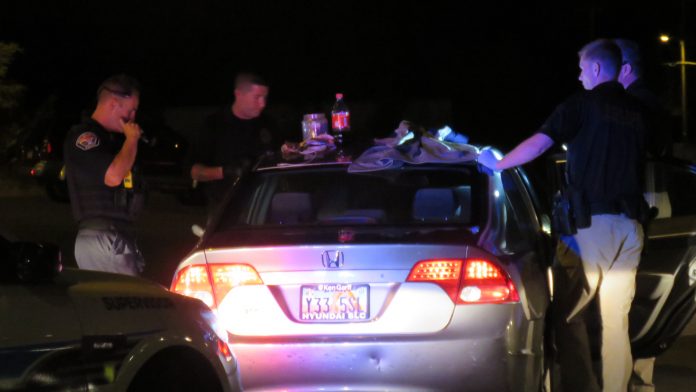 WEST VALLEY CITY, Utah, May 28, 2017 (Gephardt Daily) — A fugitive wanted on multiple drug and weapons charges was taken into custody Sunday night following a high-speed chase in a stolen car that started in Salt Lake City and ended after a brief foot pursuit in West Valley City.
West Valley Police Lt. Robert Hamilton said officers working in conjunction with the Metro Gang Unit developed information on the location of Morgan Harris, a fugitive with a long criminal history.
Surveillance of the residence was set up and police, having had prior experience with Harris, put down spikes.
"He has fled from police several times before," Hamilton said, "and once he went mobile, they spiked his tires, because they knew he was going to run."
Undeterred, Harris fled on two flat tires, traveling between 25 mph and 55 mph up and down city streets in a futile attempt to lose the pursuing officers.
Working in concert, officers anticipated the suspect's moves and were able to spike the tires a second time, bringing the car chase to an end at 1950 West and 3500 South.
Harris then fled on foot down an alley, where an officer found him hiding in a crawl space and took him into custody.
Harris was armed with a knife and police found an undisclosed amount of methamphetamine in the vehicle.
Hamilton said Harris was wanted on multiple federal indictments for weapons and drug violations and now faces additional charges, including fleeing, in Sunday night's incident.