VEYO, Utah, Oct. 10, 2016 (Gephardt Daily) — More than 200 people gathered recently in the tiny town of Veyo, north of St. George, in a stoic show of support for the extended families of Cliven Bundy and Robert "LaVoy" Finicum.
This year, both men and their kin paid a terrible price for mounting what they fervently believed were Constitutionally justified, right-to-bear-arms responses to bullying and overreach by the U.S. government in its management of public lands.
While hundreds of Bundy and Finicum family supporters were served a Dutch oven dinner of beef, chicken and bacon-infused potatoes in Veyo's sun-splashed city park, Cliven Bundy, age 70, dined on commissary food in a tiny jail cell in Pahrump, Nevada, 150 miles to the west. That is where he awaits trial on federal conspiracy charges in the armed standoff against the Bureau of Land Management outside his Bunkerville, Nevada, ranch in 2014. His sons, Mel and Dave Bundy, are in the same lockup facing similar charges.
The occupation in Oregon
Two other Bundy sons, Ammon and Ryan, are also charged in the BLM-Bundy Ranch debacle, but are currently being tried for their alleged roles in the armed occupation of the Malheur National Wildlife Refuge outside Burns, Oregon, in January of this year.
That occupation ended shortly after the group's flamboyant ad hoc spokesman, Arizona Strip rancher LaVoy Finicum, 54, was shot dead by Oregon State Police at a clandestine road block on U.S. Route 395, roughly 40 miles north of the refuge.
A subsequent investigation into Finicum's death — recorded by a camera on an FBI helicopter and on a cellphone carried by one of the alleged occupiers, Kanab, Utah resident Shawna Cox — determined the shooting was justified. Finicum, after all, had taunted police during the initial traffic stop, defying orders to step out of the vehicle and telling officers to "Go ahead and put one through the head."
After speeding away, Finicum swerved into a snowbank to avoid a police roadblock, his vehicle already taking fire. Jumping from his truck with his hands raised, he repeatedly told police, "Go ahead and shoot me!"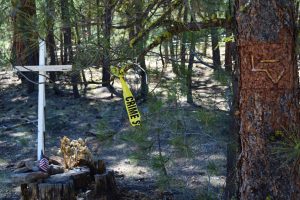 Tragically, two Oregon State Police troopers obliged, shooting Finicum in the back three times. According to the official investigation, conducted by the Deschutes County Sheriff's Office, the OSP officers opened fire as the blustery rancher, who vowed to reporters he would never spend a day in jail, reached for a loaded 9mm Ruger, later said to be found in his left coat pocket.
"We know without a doubt that the Oregon State Police troopers who shot Mr. Finicum did so as they moved to protect themselves and their fellow officers from imminent harm," said Harney County District Attorney Tim Colahan.
"Mr. Finicum repeatedly and knowingly made choices that put him, Robert LaVoy Finicum, in this situation. It was not the outcome any of us wanted, but one he, alone, is responsible for."
Another viewpoint
The finding that Finicum was "alone" in creating the circumstances leading to his death has been called into question by a revelation in open court that Ammon and Ryan Bundy, along with Finicum, Shawna Cox and two others, had caravanned to the ambush site with an armed government informant behind the wheel of one of the vehicles.
That informant, identified on the record as Mark McConnell — a man previously believed to be part of an Arizona militia movement — supplied authorities with a steady stream of information about the occupiers' movements, including a security assessment and the timetable for the group's fateful trip to the town of John Day, where they had been invited to speak at an open meeting with Grant County Sheriff Glenn Palmer.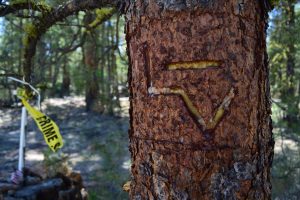 News of the informant's role in leading occupiers to the police ambush site didn't go down easy with those in attendance at the Bundy family benefit.
"We realized that night, when he (McConnell) was allowed to go free after LaVoy was killed, that he was an informant," Carol Bundy, Cliven Bundy's wife, told Gephardt Daily. "We further realized it when he took to social media that night and lied about what happened. He talked about things he was in no position to see," she said.
"People got all excited," she said. "They said, 'Carol, you just can't trust anybody anymore,' and I said, my story stays the same. I don't really care if the FBI paid informants or not. We have nothing to hide. I have nothing to hide. We've done nothing wrong. We didn't hurt anybody. If anybody was hurt, it was done by their hand, the federal government's hand.
"Cliven Bundy's never hurt anybody," Bundy said. "He hurts. His heart hurts to know that his sons and a lot of other young men that are in there are there because they stood with him, and they're not home with their babies and their families and their wives. And he carries that burden. It's very hard."
Living with loss
Jeanette Finicum, LaVoy's widow, knows about burden.
In the eight months since her husband's death, she's been forced to assume management of the couple's ranch in Cane Beds, Arizona. It's a tough job, in an often hostile and unforgiving landscape, its harshness matched only by its high-desert beauty.
"Do I talk to him? Sometimes," Finicum told Gephardt Daily. "Sometimes it's, 'I miss you and I love you and I can't wait to be with you again,' and other times it's like, 'What the heck did you think you were doing?'
"But I know he's proud. I know he's proud the American people are waking up and taking a stand.
"And yes, my husband's life was worth it. Was worth freedom. And the liberties we are losing in this country. It was worth it. I would hate to think it was not worth it, because his life would have been for nothing."
Finicum paused, her eyes narrowing.
"They didn't have to do what they did," she said. "But they planned it. They had orchestrated it. They knew somebody was going to die that day. I don't know how it will work out, but I couldn't sleep at night if I didn't try to hold them accountable for the murder of my husband." 
Civil action
If accountability for the Finicums ever comes, it may very well be through civil court.
In late August, family members hired Pasadena attorney Brian Claypool to represent them in a wrongful death lawsuit against the FBI and Oregon State Police.
The noted Los Angeles attorney and TV legal analyst is also representing Ryan Bundy in a federal civil rights suit stemming from wounds he suffered while riding in the back of Finicum's vehicle.
"Finicum, along with Ryan Bundy and other ranchers, had been peacefully protesting on a Federal Wildlife Refuge," Claypool said in a written statement. "Law enforcement, motivated by political reasons, escalated the otherwise peaceful demonstration by pursuing Finicum despite his repeated instruction to them that he was on his way to John Day, Oregon, to meet with local law enforcement and others in an attempt to resolve the protest.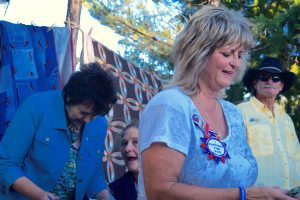 "There is now physical evidence (shell casings) that proves that two FBI agents lied during the law enforcement investigation by stating that they did not fire the first shots at Finicum's vehicle," Claypool said.
"The U.S. Department of Justice is investigating the two agents for perjury."
While Finicum's wrongful death lawsuit could take months, if not years, to shake out, the criminal proceedings against members of the Bundy family are a more immediate concern.
On Sept. 7, 2016, Ammon and Ryan, and five other alleged occupiers of the Malheur National Wildlife Refuge, went on trial on federal conspiracy charges in Portland, Ore. They have been charged with "conspiring to prevent federal employees from carrying out their duties through intimidation, threats or force."
The charge carries a maximum six-year prison sentence.
Defendants have also been charged with carrying firearms in a federal facility during the 41-day occupation.
The weapons charge alone carries a maximum five-year sentence.
The next case Regardless of the outcome in Oregon, Ammon and Ryan Bundy face even more serious charges in connection with their alleged roles in the armed standoff against federal agents outside the Bundy family ranch in April 2014.
When the trial in Oregon ends, they'll join their father, Cliven, and brothers, Mel and David, in a second federal conspiracy trial set to begin in February 2017. Charges include conspiracy to commit an offense against the United States, assault on a federal law enforcement officer, using and carrying a firearm in relation to a crime of justice, interference with commerce by extortion, and obstruction of justice. If convicted, the Bundys and other Bunkerville defendants could end up spending decades behind bars.
While the prospect of five family members going to federal prison is deeply distressing to Bundy's legion of supporters — including friends and neighbors from Nevada, Southern Utah and the Arizona strip — Carol Bundy stands bloodied, but unbowed. She, like Jeanette Finicum, has gone from living the life of a doting wife and grandmother to being the full-time manager of the family's 160-acre cattle ranch outside Mesquite.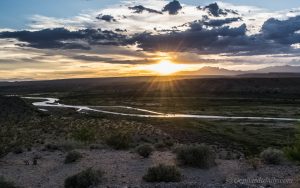 She also carries the banner for thousands of supporters who lauded her husband's decision to resist the heavily armed wildlife agents as they tried to confiscate the family's cattle in a decades-long dispute over unpaid grazing fees.
Raising funds and spirits
Now, in these darkest of days, Carol says she relies on those friends and neighbors, not only to keep the ranch afloat, but to help her daughters-in-law make ends meet while their husband breadwinners await their fates behind bars.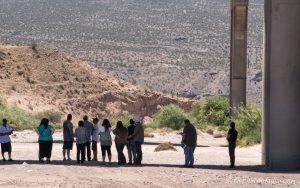 Roughly 200 of those supporters, some of them donning pro-militia patches and other "patriot" emblems, trickled into the town park throughout the day. There, they ate their fill of outback Western cooking, chatting quietly in groups while being serenaded by a handful of cowboy crooners.
In between songs, and hearty second helpings of beef brisket and corn on the cob, the crowd took part in a cowboy auction, where handmade quilts and arts and crafts were sold to the highest bidders. Also on the auction block, red-white-and-blue life-sized crosses bearing the name LaVoy Finicum.
With the first streaks of a setting September sun beginning to fill the sky, many of those in attendance took time out from the Dutch oven desserts to pay their respects and offer words of support to Jeanette Finicum and Carol Bundy. As the two women met face-to-face in the flag-draped city park, a ripple of emotion ran through the crowd. Seeing the women together — without their larger-than-life-husbands — struck a somber chord. This was, after all, the type of cowboy gathering LaVoy Finicum and Cliven Bundy would have loved to have taken part in. Their absence was suddenly palpable.
As the women went their separate ways, Carol Bundy took a minute to gather her thoughts while surveying the size of the crowd.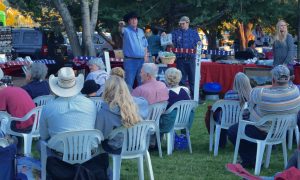 "You know, life goes on," she said. "These people just can't put their lives on hold because LaVoy Finicum gave his life for this fight. They can't put their lives on hold because my husband and four sons and a whole lot of other patriots sit in prison. But they can come to something like this and give me a hug and love me and support me. They could give a little bit of money to help my daughters-in-law put food on the table or pay the light bill. And by doing that, many hands make for light work. So everybody gives a little bit and it becomes something great and wonderful.
"And you know, if my husband, because of his age, doesn't make it out, I will deal with it when the day comes," she said. "I'm not going to worry about it now. I'm not going to worry about it. Like I said, what should I do? Lay down and cry and just give up? Then they've won the battle. I won't do that. I refuse to give in to them. I'm going to stay home. I'm going to keep the farm going. I'm gonna keep the little families going as much as I can.
"But there is a purpose for everything in this life. And would I tell my husband not to do what he did? No. Never. Never. Do I like where they are? No. Do I wish it were different? Yes. Will it be? Yes. No doubt in my mind."