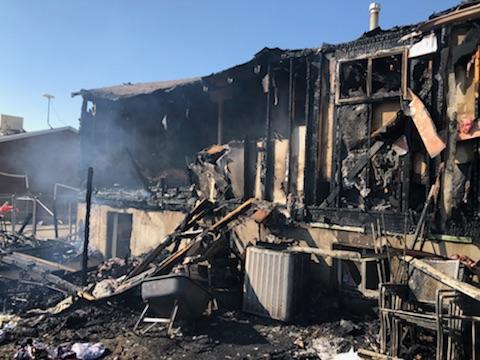 MAGNA, Utah, Aug. 31, 2018 (Gephardt Daily) — A Magna residence was destroyed by fire on Friday afternoon, and two pets trapped inside died.
Unified Fire Authority and West Valley City fire crews arrived at the scene, at 7537 W. Miriam Way (3825 South), after being summoned at 3:45 p.m., UFA spokesman Keith Garner told Gephardt Daily.
"A resident was home and heard crackling," Garner said. "She evacuated, and was unhurt except for light smoke inhalation, which was treated at the scene."
The fire appears to have started in the back of the house, then burned deep into the interior, including the basement, main floor and attic. The house is a total loss, estimated at about $200,000, Garner said.
The bodies of two pets were recovered. Garner wasn't sure if they were cats, dogs or one of each.
The cause of the fire is under investigation.