PROVO, Utah, May 10, 2016 (Gephardt Daily) — Deb Glenn, mother of Neon Trees frontman Tyler Glenn, had a strong and negative reaction to the solo video for "Trash," which slams the Church of Jesus Christ of Latter-day Saints and its founder, Joseph Smith.
"I viewed it and I don't like it," Deb Glenn wrote on her Twitter page, @NeonMom. "I find it sacrilegious. I find it upsetting. I find it dark. And I love my son."
"Trash" targets and condemns the restrictive principles of the LDS Church. Tyler Glenn, a longtime member of LDS Church, came out as a gay two years ago, and said he had no plans to change his religious beliefs.
The LDS Church excommunicates gay people who act on their sexual impulses, and does not recognize same-sex marriages, now legal in every state. Late last year, the church also said that children of same-sex relationships will be denied baptism and blessings until they become adults, leave their parents' households, and denounce homosexuality.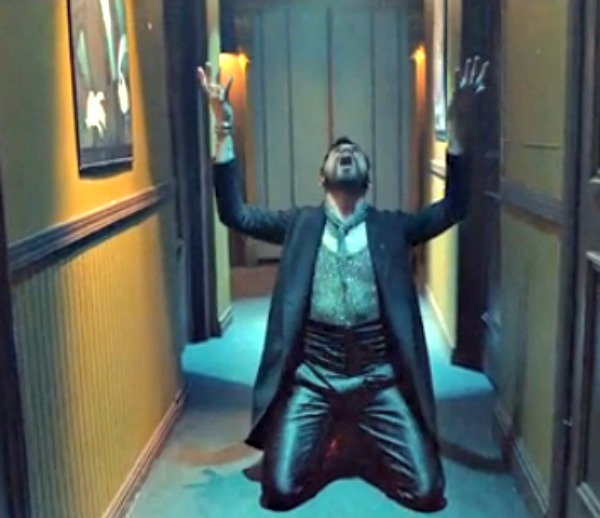 Glenn's "Trash" video, released on April 29, featuring him on the floor drinking from a beer bottle (drinking alcohol is against LDS Church rules), then standing and walking down a dim hallway hung with a portrait similar to a famous painting of LDS Church founder Joseph Smith, only Smith seems to have ghoulish, empty spaces where his eyes, nose and mouth should be.
Glenn sings "Trash" lyrics, which include lyrics with references to baptism before he was ready, speaking in tongues, visions, and superstitious prayers on his behalf.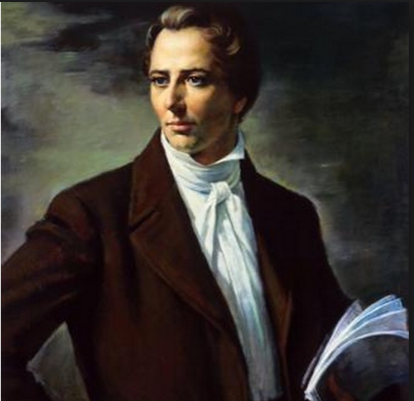 The chorus suggests that church friends think the singer is a freak, "… But we got history, in all of this, I lost myself. Maybe I'll see you in hell."
"I tried changing the perspective," Deb Glenn wrote, in her post, which her son shared on his own Twitter, page, @tylerinacoma.
"What is it that he is saying, why this depiction, why this imagery," Deb Glenn continued. "I know Tyler. I know his heart. I have seen and felt the marginalization of the LGBT+."
Glenn said she had seen her son's frustration and sadness, especially since the new and old information on the LDS Church's policy on homosexuality hit the news in November.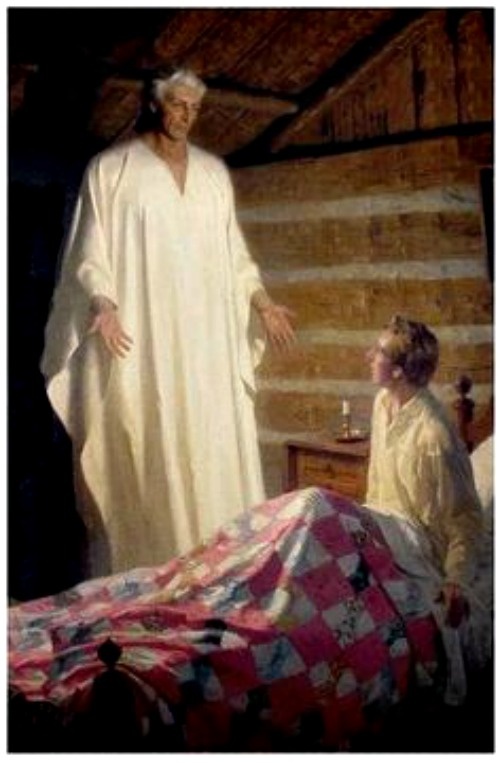 "And then I viewed the video and saw all that pain coming out of him," Glenn said of her son. "Even I, his mother, did not know of his true inner turmoil, distress and great personal pain. The man in the video drew on some very serious pain, a lifetime of pain. It's not pretty."
Glenn said the post was not about her or her own faith or belief in LDS teachings.
"It's about a young man who is in the public eye (who) has discovered himself and doing something with the pain that is real. I do not want to justify his action turned into what he feels is art. But I do say as my faith has taught me to love one another. To find fault, to finger point, to hate, to loath, to judge without understanding is wrong."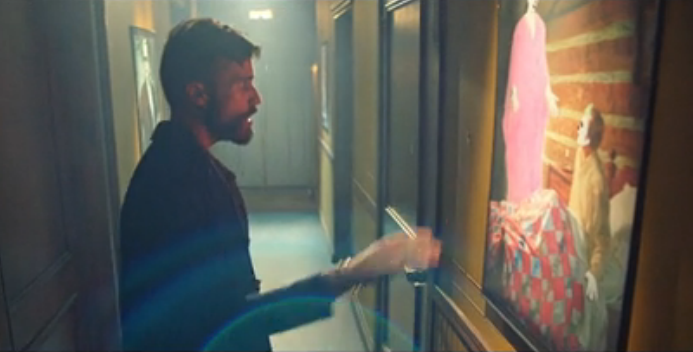 Glenn said everyone has the right to opinions.
"I choose to act on my faith in God and seek ways to understand, lift and love," she wrote. "Tyler knows that my husband and I stand with him, at the ready to carry him if necessary. All my love, Mom."
A few days after Deb Glenn's post, son Tyler posted a note of appreciation to his mother.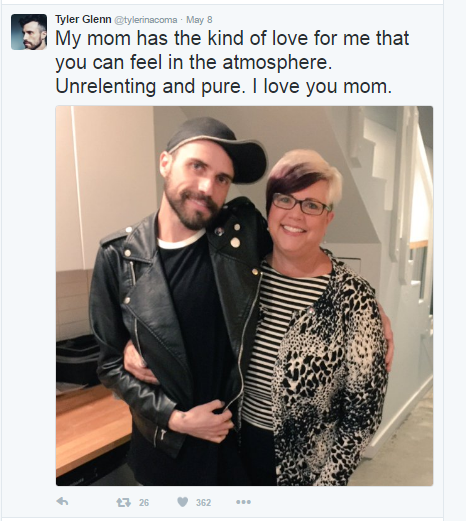 Deb Glenn's post: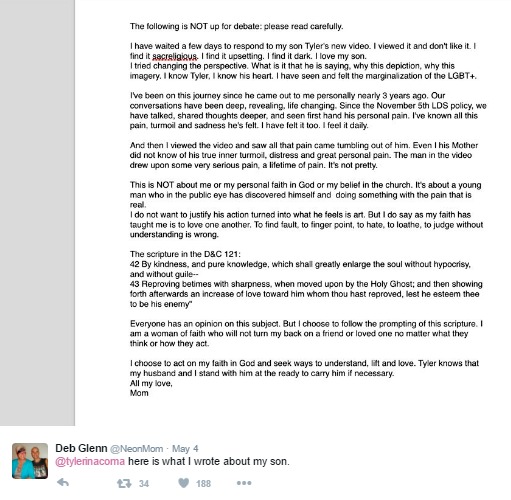 To view "Trash," click this link. The song's lyrics follow.
"Trash"
I think I lost myself in your new religion
You say a prayer for me like a superstition
We were always made for love
We could always speak in tongues
On my knees and I'm seeing visions
Yeah, you remind me that seven sins are deadly
You used to baptize me when I wasn't ready
Water never turns to wine
I've been drinking all the time
I think of you whenever I see fire in the sky
[Chorus]
Your friends think I'm a freak
Why, what's in my drink?
I can't even think, but we got history
In all of this, I lost myself
Maybe I'll see you in hell
Okay, whatever
One man's trash is another man's treasure
[Verse 2]
I said my flesh is weak but the spirit's willing
And you would sell my soul just to make the killing
If you wanted me to stay
I'd prepare my days away
[Chorus]
Your friends think I'm a freak
Why, what's in my drink?
I can't even think, but we got history
In all of this, I lost myself
Maybe I'll see you in hell
Okay, whatever
One man's trash is another man's treasure
[Bridge]
You keep throwing me out like
You keep throwing me out like
You keep throwing me out like
One man's trash is another man's treasure
One man's trash is another man's treasure
[Chorus]
Your friends think I'm a freak
Why, what's in my drink?
I can't even think, but we got history
In all of this, I lost myself
Maybe I'll see you in hell
Okay, whatever
One man's trash is another man's treasure
One man's trash is another man's treasure