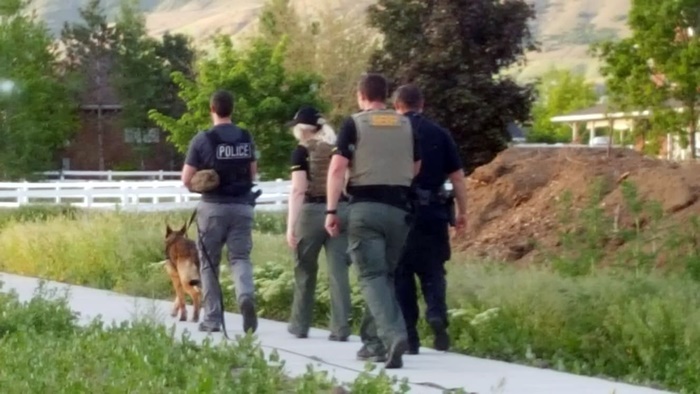 CENTERVILLE/FARMINGTON, Utah, May 15, 2019 (Gephardt Daily) — Police are looking for three of four suspects in an armed robbery and assault that occurred Tuesday afternoon in Centerville, and they have identified at least one of the suspects.
The incident led to a brief pursuit on Legacy Parkway and an extensive manhunt  in Farmington, where the suspects fled on foot after crashing their vehicle.
A news release Friday night from Lt. Zan Robison, Centerville Police Department, provides a time line of events, beginning with the 4:45 p.m. report of the robbery and assault at 800 East and 650 South in Centerville.
Police believe the incident took place inside a vehicle, and that the victim was acquainted with one or more of the suspects, according to the news release.
According to the victim, the suspects brandished a firearm, physically assaulted him, and took his wallet. He was transported to Lakeview Hospital, where he was treated for minor injuries.
Police were given a description of the suspect vehicle, which they located at a residence in Farmington, but before officers could make contact with anyone at the residence, several suspects came out and left in two vehicles.
A traffic stop was conducted and a man in one vehicle was taken into custody, but the second vehicle fled and went off the road near southbound Interstate 15 and Glovers Lane in Farmington. From there, the three remaining suspects ran into a brushy area and disappeared from view.
Police scoured the area with assistance from K9 units and Star 9, the Utah Department of Pubic Safety helicopter, but were unable to find the three men they were looking for.
One of the suspects being sought has been identified as Alonso Abraham Valdez, 19.
He is known to have ties to Farmington.
Police are asking the public for any tips as to his whereabouts, but they are cautioning everyone to not approach Alonso, as he may be armed.
Anyone who has any information that could help in this case is asked to call Centerville Police at 801-292-8441.