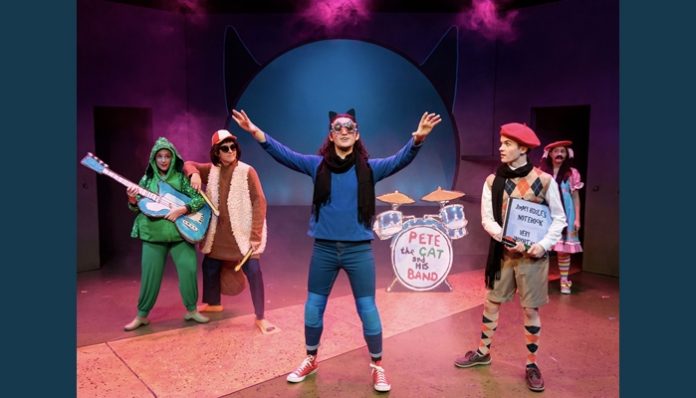 SALT LAKE CITY, Utah, Dec. 16, 2019 (Gephardt Daily) — I have two words to describe "Pete the Cat" at Salt Lake Acting Company: purr joy.
I didn't know a thing about Pete, who's the feline equivalent of… let's see, maybe Adam Levine from Maroon 5? Jimi Hendrix? Metallica's James Hetfield? Maybe a rockin' combination of all three? He's surely the coolest cat I ever did see.
My theater companions, my two nieces, filled me in with what was essential to know about Pete before we went to the theater; namely that he's super cool, he plays the guitar, wears red high tops, and has a skateboard and four groovy buttons (which make an appearance, as you might guess, in the book "Pete the Cat and His Four Groovy Buttons. It's on my Christmas list.)
The show, the 11th annual children's production from SLAC, is a Utah premiere, following an off-Broadway run, and is based on the popular book series by Kimberly and James Dean. The stage musical features music by Will Aronson and book/lyrics by Sarah Hammond.
The premise is simple: when Pete gets caught jamming after bedtime, the cat-catcher sends him to live with the straightlaced Biddle family to learn manners. But for Pete, life is an adventure no matter where you wind up, and the minute he walks in the door, he starts helping the whole family loosen up and get closer. The whole family that is, except for young Jimmy Biddle, the most organized second grader on planet Earth. But when Jimmy draws a blank in art class during the last week of school, Pete and Jimmy set out on a mission to help Jimmy conquer second grade art and fight some demons along the way.
What I really appreciated about the show is that even though there are some wise messages, such as it's OK to make mistakes, sometimes being organized is a good thing, and you can find beauty and good in just about everything, the morals are not didactic. Rather, they are just part of the fun of the production as a whole. Kids and adults alike will leave feeling empowered, but more than that, with a bounce in their step and a cool guitar lick in their heart.
Director Penny Caywood is an old hand at SLAC's children's shows by now. Caywood, who is artistic director of the University of Utah Children's Theatre, returns for her 10th children's production at SLAC. She directs, choreographs, and provides musical direction for "Pete the Cat." Under her watch, the production is pure pleasure for kids but I have to say, I didn't want to miss a single moment either. You'll truly leave your worries at the door with this show.
The cast members are, without exception, utterly charming. You can really tell that Caywood as a director gives her actors enough guidance to hone each character, but also lots of room to play and really respond to the moment. Jacob Weitlauf infuses Pete the Cat with a joy de vivre that makes you want to be best friends with the exuberant feline.
Joseph Paul Branca plays Jimmy, the uptight second grader, in a way that makes us totally root for him and his journey to becoming a little more unbuttoned. Both Cameron Aragon as Olive/Cat-Catcher/Eloise and Shelby Andersen as Mom/Grumpy Toad and the wacky teacher Mrs. Creech, both have gorgeous singing voices and bring vivacity to all the roles they play. I don't always love adults playing kids but in the case of Branca and Aragon, they hit just the right tone without going over the top.
I have to admit that as soon as Trayven Call made an appearance as the super cool drummer Gus the Platypus, I couldn't take my eyes off each of the characters he plays. Call is such a nuanced actor who adds so much layering and joy to each of his roles (which include Dad and Barnaby) that I would love to go back and see the show just to watch him. Also, I'd love to go to a long dinner with Gus the Platypus and grill him on all his wild times in the Pete the Cat band.
The production values are lovely too. Gage Williams designed the set, which really brings the books to life; there is a round screen in the middle which shows projections adapted from and inspired by the series, as well as flat prop pieces (props are by Justin Ivie) that are brought on and off, including the VW (very wonderful) bus in which Pete and Jimmy have their adventures. Costumes, by Dennis Hassan, are gorgeous to look at while at the same time allowing the actors to move and dance with ease.
And Jesse Portillo's lights made us feel as if we were in the middle of the coolest disco in town. My nieces (and me and their mum, to be honest) loved the disco ball that we were lucky enough to sit right below and the bubbles that came raining down from above on us.
In addition to ticketed performances available to the general public, SLAC once again opens its doors to several thousand Title I kindergarten through 2nd graders, continuing the theater's commitment to make the arts accessible to all. The number of Title I students who have or will have attended over the course of the program's 11 years now totals nearly 25,000.
The thing is, that for adults and often for kids, the holiday season can be stressful and a little intense, and if you're looking for 50 minutes or so of pure, childlike pleasure, then I would wholly recommend going to "Pete the Cat." Take your little ones, your relatives, your neighbors, or, if you don't know any kids, well, just go and see it yourself, you'll be really glad you did. And if you don't have time to go; well, theater tickets always make fabulous gifts!
The run of "Pete the Cat" continues in SLAC's Upstairs Theatre at 168 West 500 North through Dec. 30, with performances on Saturdays and Sundays at noon and 3 p.m. and additional shows on Dec 20 at 7 p.m.; Dec. 21 at 5 p.m., and Dec. 23, 26, 27 and 30 at noon and 3 p.m. Tickets can be obtained via tickets.saltlakeactingcompany.org, in person, or by calling SLAC's box office at 801.363.7522.