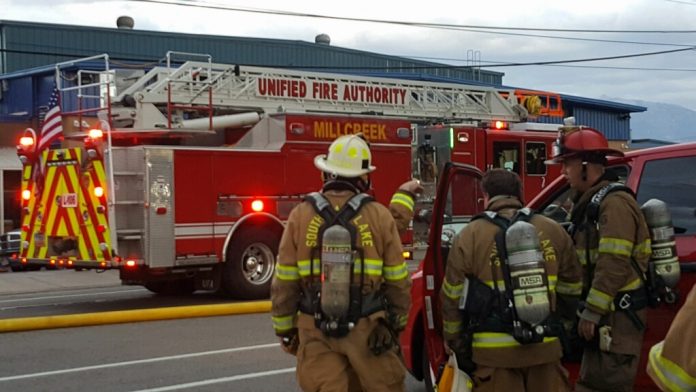 SOUTH SALT LAKE, Utah, Sept. 20, 2017 (Gephardt Daily) — Crews battled a difficult commercial fire in South Salt Lake late Wednesday afternoon.
South Salt Lake Fire was joined by West Valley City Fire in fighting the blaze at Weir Metals at 3456 S. 700 West, which broke out at just after 6 p.m.
Eric Sloan, battalion chief for South Salt Lake City, said there were some industrial presses that maintenance was being performed on when a spark got into the building's ventilation system and started a fire.
"We attacked it initially from the interior, and then we went up on the roof because we had a bit of smoke and fire coming out of the vent exit up on the roof itself," Sloan said.
He said damage to the building is fairly minimal but the presses may be a total loss.
There were no injuries to employees or firefighters.
Employees will be able to return to work at the site Thursday.