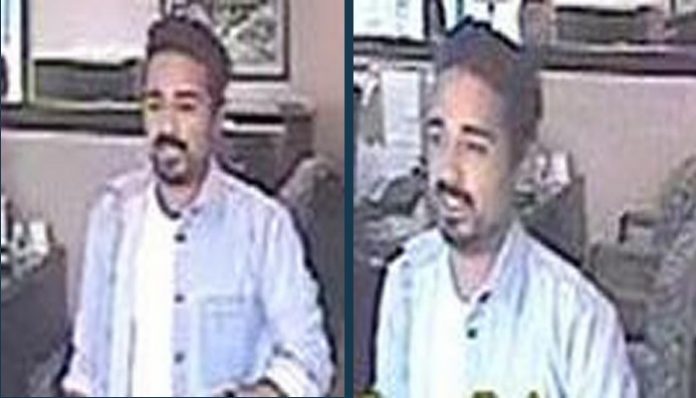 SALT LAKE CITY, Utah, Aug. 14, 2017 (Gephardt Daily) — A man wanted on suspicion of robbing numerous banks in Idaho and one in Orem, Utah, was arrested Sunday at Los Angeles International Airport.
Josue Daniel Alfaro, who also went by Danny Alfaro but had become known as the "Great Outdoors Bandit" because of his outdoorsy attire, was arrested while attempting to board a Wow Airlines flight to Brussels, Belgium, according to information released Monday by the United States Attorney in the District of Idaho and the Federal Bureau of Investigation in Salt Lake City.
In each case, the man approached the teller, showed a note demanding cash and in most cases, placed the money in a brown paper bag he carried with him. In some cases, he did not speak.
A criminal complaint charging Alfaro with bank robbery was filed in the District of Idaho on Friday, and an arrest warrant was issued.
According to the news release, the affidavit that accompanied the criminal complaint states that a man matching Alfaro's description and wearing a baseball cap and sunglasses robbed the following banks:
— On Dec. 21, 2016, U.S. Bank, 10500 W. Overland Road in Boise, Idaho;
— On Dec. 21, 2016, Idaho Central Credit Union, 1615 S. Celebration Ave. in Meridian, Idaho;
— On March 24, 2017, Bank of the West, 9140 W. Emerald St. in Boise;
— On May 24, 2017, Alpine Credit Union, 351 E. 800 South in Orem, Utah;
— On Aug. 7, 2017, Bank of the West, 9140 W. Emerald St. in Boise;
— On Aug. 7, 2017, Pioneer Federal Credit Union, 850 E. Fairview Ave. in Meridian;
— On Aug. 7, 2017, Clarity Federal Credit Union, 555 S. Meridian Road in Meridian.
The affidavit also states that on Aug. 7, a man matching Alfaro's
description went to Idaho Independent Bank in Mountain Home, Idaho, and wasn't wearing sunglasses or disguising his face in any way.
The man wanted to exchange $1,500 in $100 bills for $50 bills. The bank denied the request and provided photographs of the man's face and the vehicle he was driving –- a black Mitsubishi Outlander –- to law enforcement. A black Mitsubishi Outlander was also photographed during the Aug. 7 robbery of Pioneer Federal Credit Union in Meridian.
After the FBI sent out a media release on Aug. 9 that included the photos, Alfaro was positively identified by his brother and an acquaintance.
Monday's news release also cites the affidavit as stating that Alfaro's brother told law enforcement that on Aug. 5, Alfaro and his sister drove a rental car from their home in Los Angeles to the family's home in Utah, and on Aug.7, Alfaro borrowed his mother's black Mitsubishi Outlander, left the residence, and returned two days later.
His brother informed law enforcement that he had learned Alfaro had an argument with his sisters when they confronted him about the surveillance photos in the media, after which Alfaro drove back to California in the rental car.
According to the news release, Alfaro had his initial appearance and arraignment on Monday in California. He was detained and will be transported to Idaho for trial.
The FBI, U.S. Customs and Border Protection, Boise Police Department and Meridian Police Department are investigating the case.