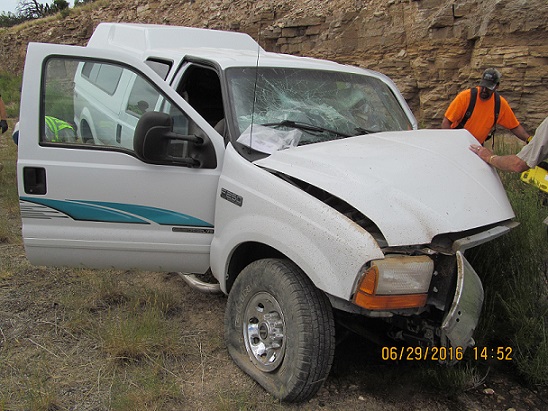 EMERY COUNTY, Utah, June 29, 2016 (Gephardt Daily) — Three people traveling from Las Vegas to Colorado for a family reunion died Wednesday in a single-vehicle accident on eastbound I-70 in Emery County.
The Utah Highway Patrol said the crash happened just before 2 p.m. near mile post 136 when a white 2001 Ford F-250 pickup veered off the road and into the median where it slammed into a rocky outcrop.
The 77-year-old driver was taken to Green River Medical Center where he died from his injuries.
The driver's 76-year-old wife was flown to St. Mary's hospital in Grand Junction Colorado, where she later died.
A 70-year-old female relative who was in the back seat was pronounced dead at the scene.
Investigators say they've yet to determine why the truck left the roadway. They say drugs or alcohol do not appear to be a factor.
The identity of the victims will be released after notification of next of kin.