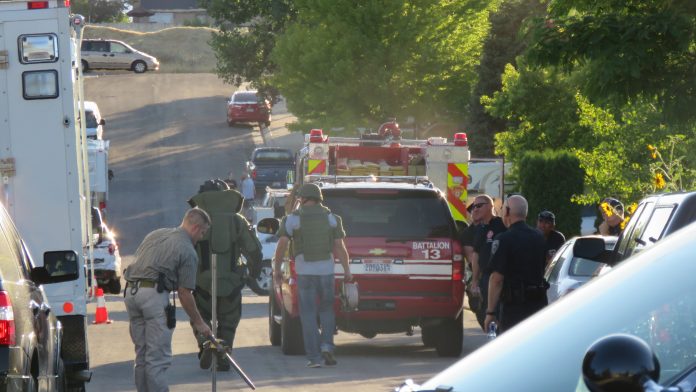 TAYLORSVILLE, Utah, June 30, 2017 (Gephardt Daily) — Residents in the area of 3400 West and 5775 South got a little nervous Friday night when the fire department and bomb technicians rolled into the neighborhood.
Matthew McFarland, public information officer for Unified Fire Authority, said a call came in at about 6:20 p.m. from someone who had found what they thought might be a pipe bomb.
"It was in some sort of metal box that had belonged to a World War II vet," McFarland said.
A Unified Police officer at the scene told Gephardt Daily the homeowner's father had recently passed away and the item was in a metal safe-like box among the man's possessions. When the family member came upon what appeared to possibly be an explosive device, they called for assistance.
McFarland said the bomb technicians followed protocol by setting up "mitigation procedures" to ensure everyone's safety. He said the item was ultimately destroyed, and it was determined that it had not posed a threat.
The family member who called the emergency number did exactly the right thing, McFarland said. "It's always best to call 911 if you're concerned, because the technicians are the experts and they have the equipment, the robotics and the procedures to handle these situations."
Possible pipe bomb in Taylorsville